What is eCOGRA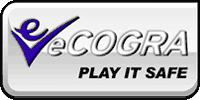 Play it safe
By clicking through to an eCOGRA site you are taking a significant step to protect yourself from online casinos that do not adhere to honest and fair business practices.

eCOGRA is a non-profit, non-partisan and totally international organisation. It provides participating casinos and poker rooms with a set of player-sensitive regulations that are checked by independent inspection and enforced by ongoing monitoring.
What does the eCOGRA Seal mean?
The eCOGRA Seal is awarded to casinos and poker rooms verified by independent auditors in terms of:
• Efficient and timely payouts
• Fair gaming practices
• Fast dispute resolution
How does it affect players?
The purpose of eCOGRA is the protection of players everywhere. Always look for the eCOGRA Seal when gaming online. If a site does not carry the eCOGRA Seal, you might be at risk.
If your favourite online casino or poker room does not have the eCOGRA Seal, send them an e-mail recommending that they apply for accreditation. Details are also available on the eCOGRA website.
Where can I get more information?
Visit eCOGRA's website at www.ecogra.org where you will find detailed information on the organisation, directors, and procedures.
Casinos and Poker Rooms which are eCOGRA approved
Casino of the Month
This month our online casino of choice is:
Aspinalls Online Casino


BONUS:

15% extra up to £3000