Casino Testimonials
These are testimonials from the online casinos and affiliate programs which we at CasinoMan.net work with. Our objective nature has always earned us a good reputation in the industry as trustworthy and honest. Here's what other people had to say about us:
Fortune Affiliates
"...The prestigious Fortune Affiliates Group of online casinos, poker and bingo rooms has been working closely and successfully with CasinoMan.net since it was first established in 2001.

During that time, Fortune Affiliates has cemented a rewarding relationship with CasinoMan.net, known to be the largest gambling information website currently on the Internet. CasinoMan.net is definitely a trustworthy and insightful place to find out the latest news about anything online gambling. With a focus on online slots - arguably the most popular online gambling pastime for most casino fans - CasinoMan.net has proven itself to be a reputable source of continuously updated information.

This ideal setting has allowed the Fortune Affiliates Group to stay abreast of the latest developments, newest game trends and general popular opinion. With the abundant social facets provided by CasinoMan.net, like community and voting forums, this ingenuous casino info giant has excelled at providing a platform from which online casino fans can voice their opinions, and through which places like the Fortune Affiliates can gain insight into the online gambling trends.

Fortune Affiliates wholeheartedly endorses the CasinoMan.net enterprise, which has in the past provided stellar reviews and feedback for numerous Fortune Lounge casinos, notably Royal Vegas, Platinum Play, 7Sultans and Vegas Palms, which are some of the oldest and most experienced online casinos available.

The Fortune Affiliates Group is looking forward to a continued relationship with CasinoMan.net, and applauds the consistently good feedback generated from reviews and player input..."

Anthony P. Fortune Affiliates Program Manager
Find out more about Fortune Affiliates here »
Bright Share
Our team has had the pleasure of working with CasinoMan.net since 2001, when it was first established.

The site offers its visitors informative, trustworthy and current news, and is a great source of continuously up to date information..

Eddie is wonderful to work with, always accepting new ideas and giving invaluable opinions. He has strived to make CasinoMan.net the first rate gambling information site that it is. His professionalism has paid off, providing players with reputable gaming sites, informative and ongoing facts, and more.

I look forward to a long and prosperous relationship with CasinoMan.net.
Find out more about Bright Share here »
Main Street Affiliates
"...I've had the pleasure of working with Casinoman.net since 2007. Eddie's professionalism is second to none.

Casinoman.net takes great pride is ensuring that its visitors are well informed with the latest news and reviews of online slots machines and other popular casino games. Eddie takes this to another level in identifying some of the most trustworthy and reputable gaming sites so that players can make informative decisions on where they can play their favourite games. And more importantly, to where they can rest assured knowing their money will be safe.

We look forward to our ongoing successful relationship with Casinoman.net..."

Jason Carter , Affiliate Manager, Mainstreet Affiliates
Find out more about Main Street Affiliates here »
Euro Partners
"... I first came across CasinoMan last year and was very impressed with the site. Loaded with extremely rich content and tons of cool features, CasinoMan was a site I knew I wanted to work with.

It gives virtual casino goers an in depth look at thousands of slot machines with detailed facts, figures, videos and screenshots. CasinoMan also features a great rules and strategy section detailing all the ins and outs of just about every casino game out there. The site offers plenty of exclusive bonuses making it more than just a knowledge and fact based site and is very interactive allowing visitors to download the CasinoMan toolbar.

Eddie is a pleasure to work with and is always open to new ideas and ventures. He takes pride in his site being honest, accurate and objective and this is evident from the moment you enter CasinoMan ..."

Mark B. Senior Account Manager, Europartners
Find out more about Euro Partners here »
Referback
Referback has enjoyed a long relationship with CasinoMan.net and we have always respected the marketing methods of this reputable, informative online casino portal.

With strong emphasis on relevant information for both beginner and experienced casino players alike, CasinoMan.net really is a one stop shop for any aspiring online casino player.
Eddie is extremely proactive and ensures that he is at the forefront of the online gambling market, in touch with the latest trends, newest games, best bonuses and ensuring all visitors to CasinoMan.net have a wide selection of only the very best bonuses, slots games and casino rooms to play at.
Furthermore Eddie's understanding of the online player is second to none and he ensures that his players are able to share experiences - good and bad - across his many social networking platforms.
We are proud to be associated with this network and can safely say that Eddie goes the extra mile to ensure his players receive the very best that the online gambling environment has to offer. Referback and CasinoMan.net share a common vision - that you, the player, come first!
Donovan S, Senior Account Manager, Referback Affiliate Program.
Find out more about Referback here »
Gambling Newsletter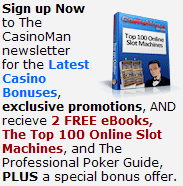 Casino of the Month
This month our online casino of choice is:
Jackpot Party


BONUS:

Earn double points every monday
Latest Promotions
Win $100 Cash Prize