Visitor Testimonials
Here are some testimonials from visitors to CasinoMan.net. If you would like to sumbit a testimonial, please enter the form below.
Rhona P
"Not only did I win $100 cash from the monthly Guess the Slot Competition at CasinoMan.net, i was also able to find great slots to play that i hadn't seen before in the huge slots guide. There are great detailed reviews about most slots with fab youtube video previews showing game play. Once i have picked which ones i want to play, i can also see which casino has which slots and where best to play them. Its all very exciting, im off to spend my $100!!! Thank you CasinoMan"
Gareth S
"I came across the site when I was searching online for some information about how to play craps and found this HUGH website. At first I didn't know where to look for the info, however after a little tinkering, I found the craps rules through the easy menu system. Not only did I find this, but I found a whole wealth of other information about online gambling that I didn't even realised existed! Thanks, G"
Sheena
"Hey Casinoman, just want to say what a great site and I've been visiting for years and you've kept up the fantastic work! Sheens"
Kat C
"Thank you CasinoMan for all the information on your site. I like to call myself a Poker player, although I'm not very good… but I found a whole bunch of interesting articles and tips to read on CasinoMan.Net so I hope to breaking the casino's banks very soon! I found the Poker Room Reviews especially helpful so thanks again for helping out, and you'll be seeing my name up in lights soon!"
Gambling Newsletter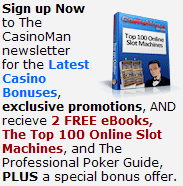 Win $100 Cash Prize
Casino of the Month
This month our online casino of choice is:
Jackpot Party


BONUS:

Earn double points every monday
Latest Promotions