Live User Ratings - Information
CasinoMan.Net uses one of the most advanced scoring systems to bring you the most objective ratings for online casinos. Our system was first created 3 years ago and it has since then been refined to provide you with the best votings possible.
The total score for the casino is calculated over 2 basic sections:
The User Vote - 50%
CasinoMans Automatic Weighting System - 50%
THE USER VOTE
Like a lot of reality TV shows, the score is based on 50% user voting and 50% automatic weighting which is explained underneath.
The user vote is a simple YES or NO vote on whether you like the online casino or not. You vote counts towards the final score of the casino, so vote for your favourites. This is an IP tracked system to prevent spambot voting, so you'll only be able to vote from your IP address once.
CASINOMANS AUTOMATIC WEIGHTING SYSTEM
This section as mentioned before accounts for the other 50% of the scoring. Although we believe that the USER VOTE is important in determining how customers perceive the online casino, it is also important to consider the actual service being provided by an online casino. If an online casino offers 4 ways to communicate with them and another offers only 1 way, this should be noted. Equally when an online casino offers 20 different deposit methods and another one offers only 4, this should be penalized. This helps you judge the casino with a much more accurate overview.
Each of these points are scored and weighted into the final score:
License Location - it is important to display and acknowledge on the casino website, which jurisdiction they are licensed and regulated.
Payouts Auditor - displaying which 3rd party organisation audits the casino games will increase their score.
Languages - support for other languages is desirable for foreign language speakers
Currencies - support for other currencies is desirable
Other Features - these include the availability of a 'No Download' flash casino , Livechat support facilities , eCogra certification .
Bonus Promotions - every player wants more offers, so a casino with many promotions will always do well.
Payout Percentages - this is a very important factor to take into account because it verifies both the randomness of games (by a 3rd party), and it proves honesty of an online casino.
Deposit Methods - a casino which facilitates more deposit methods will gain more points.
Loyalty Program - any casino worth it's weight will have a loyalty program to allow players to support and continue playing for rewards.
Support and Contact Information - if a casino does not have clear support information, be very careful. This is obviously very important.
All of these points are important, however to indicate the varying levels of importance we have placed a symbol showing it's level. These symbols ( ) range from low to high importance.
Everything you've read on this page goes towards the scoring. Please continue to vote for your favourite online casino because your vote is important. Choose your casino on the right and VOTE!
If your favourite casino is not listed here, contact us and tell us to review it.
The Casino Reviews
Gambling Newsletter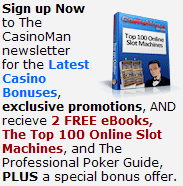 Casino of the Month
This month our online casino of choice is:
Jackpot Party


BONUS:

Earn double points every monday
Gambling Blog Latest
Pinnacle Entertainment names a new CFO
Carlos Ruisanchez has been named as the new CFO for Pinnacle Entertainment after his predecessor Stephan Capp resigned after eight years with Pinnacle to pursue other opportunities. His resignation took the company a little by surprise especially as Capp had seen such success in improving the businesses financial bottom-line over
...read more »