Slot Machines
A Chronology of Slot Machine Gaming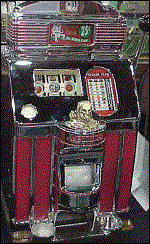 In today's world, we see a type of gaming that previous generations never thought possible. Even something as simple in principle as a slot machine has been transformed into a marvel of ingenuity by creative computer designers. The virtual slot machines today are varied in design, theme, betting and payout structure, and especially payout size. You can find online slots paying out anywhere from a few coins to over $1-million. All of which share one thing in common: they're hugely popular.
Slot machines have been around for over a hundred years. When they got their start, the one-armed bandits were simplistic in nature and instantly drew in the fans. Charles Fey, an American from San Francisco, invented the first slot machine in 1887. However, the idea for slots—the various winning combinations—was first a poker game. It was thought to be impossible for a machine to essentially be "random" and still generate the proper combination of wins, not to mention the challenges of getting a machine to pay out for these winning combinations.
Fey's machine was a spectacular invention for the time. It used five symbols (horseshoes, spades, hearts, diamonds, and a Liberty Bell) placed on three reels. This was the machine that started it all, but it was still just a very basic version. In 1891 in Brooklyn, New York, Sittman and Pitt developed a more complicate machine, using five drums and holding 50 cards/symbols. This nickel-machine was found in many bars across the country, and eventually the world. Technically, it was the first automatic poker machine, as it used playing card symbols and made poker hands.
The evolution was just picking up with the slot machine. In 1963, the first electromechanical machine was developed by Bally, and with a bottomless hopper and a 500-coin payout, Bally's machine was the monster of the gambling world. By this point, slot machines were all over the world, going by different names and featuring various symbols and various payout structures.
Bally's electric machine gave birth to the video slots. With video machines, there are no mechanical moving parts at all. Instead, a screen displays the reels and symbols, and betting is done through buttons or through the mouse and keyboard of a computer. Since the reels are totally animated, each reel can contain upwards of 50 symbols. This makes the likelihood of hitting any particular jackpot up to 300,000,000:1 depending on the prize.
Slot machines found their way online in the late 1990s due to the explosion of online casinos. Even still, the first video slot machines were different than what is found today. Most were strictly three or five-reel machines, and the machines were pretty straightforward in design. That has changed over time. The machines found today are up to seven-reels, and winning combinations have greatly increased.
There are progressive slots out there, as well as slots that are themed to play video and movie clips, and even customizable slots that allow users to put their personal touch on the game. Overall, slots are the most popular game at all land-based and online casinos.
Gambling Newsletter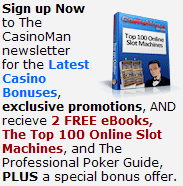 Casino of the Month
This month our online casino of choice is:
Jackpot Party


BONUS:

Play at Jackpot Party® and every time you visit us and play any of our exclusive games, you can earn Jackpot Party Rewards™ points