Finishing a game of Mah Jong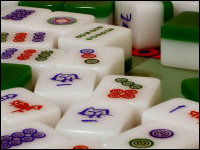 If all the tiles from the wall are drawn, except for whatever remains of the 14 tiles of Kong Box, then the game is declared a draw and no scores are made. The tiles are shuffled again and game is restarted with the same player as East wind.
Once a player has reached the point where a player needs one more tile go out, that player declares "one for Mah Jong". This alerts the other players to be more careful with their discards and the player in question is said to be "calling" or "fishing".
A player who takes a tile from the wall that makes a completed Mah Jong hand, declares Mah Jong and lays down all tiles. Any player who can form a finished Mah Jong hand with the tile just discarded can call Mah Jong, take the discarded tile and go out.
It can happen that one player can call Mah Jong with the discarded tile and another can call Pung or Kong with the discarded tile. In this case the player with Mah Jong takes precedence. It can also happen that more than one player can make Mah Jong with the discarded tile. In this case, the player nearest the right of the player who discarded, wins the dispute, takes the tile and goes Mah Jong.
A player cannot declare a Kong and make Mah Jong because a replacement tile must always be taken when declaring a Kong. A player cannot declare Mah Jong and then discard a tile.
In the case where a player takes a tile from the wall and plays it on an already exposed Pung to form a Kong, if another player can use that tile to go out, this player can "Rob the Kong" in order to go Mah Jong. The player simply takes the tile just played and uses it to play a set of his own tiles to go out. Robbing the Kong is only allowed on exposed Kongs with one exception - a player can rob a hidden Kong in order to complete the "Thirteen Unique Wonders" special hand.
Latest Online Slot Games
These are the latest online video slot reviews added to the CasinoMan online slots guide.
Click on each online slot screenshot
to read more about the game, to view detailed paytables, big screenshots and video previews of the online slot machines being played.
Online Slots Feature - Fame and Fortune

Fame and Fortune is a 5 reel 20 payline video slots machine with a top jackpot of 5000 coins, and the game is made by Realtime Gaming.

Available at Sun Palace Casino

Fame and Fortune video slots is an elegant video slot machine which has 20 pay lines and a nice jackpot of 2500 coins, or 5000 when hit with the GLAMOUR GIRL symbol.There is an interesting free spin feature here which is triggered when you get the symbols FAME on reel 1 and FORTUNE on reel 5. Once triggered you'll get 10 free games and during the first 5 free games, you will get double multiplier on the wins, an...
Full Review »
Gambling Newsletter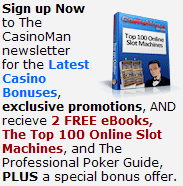 Casino of the Month
This month our online casino of choice is:
Online Vegas


BONUS:

100% up to $500 free