International Online Casino License Jurisdictions

This is a list of gambling license locations where online casinos can apply for a license to operate an online casino or online gambling establishment. It is important that when you are selecting an online casino to spend money at, that you choose one which is licensed under one of the current recognised jurisdictions below.
Choosing an online casino to play at can be a minefield. This information should help you to make your decision. Our online casino reviews show where each one holds its license, so you can be sure you'll be making the right choice.
Name
Brief
Corporation Tax
Gaming Tax
Alderney
The British Channel Islands are often considered to be among the world's leaders in off-shore finance. Although these islands are dependencies of the Crown, they are not subject to or part of UK or EU legislation. This has allowed the Channel Islands to act independently, and this prompted Alderney to set up the Alderney Gambling Control Commission in 2000. read more »
0%
No additional taxes
Antigua and Barbuda
Antigua and Barbuda has a long standing reputation as one of online gambling's first licensing regulators. In 1994, before the Internet gambling craze encompassed the entire globe, Antigua became the world's first online gambling jurisdiction. read more »
None
None
Costa Rica
Costa Rica is considered one of the most popular gaming jurisdictions in the world. With over 300 gambling websites registered with the country, they're among the leaders and often considered the center of internet gambling. Although, with their many registered gaming sites, Costa Rica doesn't have legislation dealing specifically with online gambling. The Costa Rican government takes the stance that having outside countries registered for a license can bet and participate in gambling legally, but for Costa Rica citizens, it is illegal to gamble. read more »
In Costa Rica, business tax legislation is currently based on the principle of territoriality meaning that all business income which has a foreign source is tax exempt. Only that proportion of business revenue earned within Costa Rica is subject to an assessment by the tax authorities.
No additional taxes for such companies are applicable.
Gibraltar
Gibraltar is a self-governing British Overseas territory and also a member of the European Union. Under the Gambling Act of 2005, all gaming operations in Gibraltar require a license. As such, all remote gambling licenses, including internet and telephone betting, are issued by the respective Licensing Authority in the jurisdiction. read more »
Information available on request from the Office of Financial and Development Secretary.
1% of annual turnover up to £42.5million, with gaming tax capped at £425,000 per year.
Isle of Man
The Isle of Man is a very reputable gambling jurisdiction that offers licensing to corporations abroad. The island's government, unlike many around the world, actually encourages the development of online gaming business on the island. read more »
0% (if bets are not accepted from Isle of Man residents)
Duty payable on retained gross profits:
- 1.5% for gross gaming yield not exceeding £20million/year
- 0.5% for gross gaming yield from £20-40million/year
- 0.1% for gross gaming yield over £40million/year
The exception is Football Pools which carries a £15 duty rate.
Kahnawake
Based in Quebec, Canada, the Kahnawake Gaming Commission is a regulatory authority overseeing online gaming. Their commission gives licenses to qualified parties seeking to establish online casinos and poker rooms. read more »
There is in is no corporate tax
There is no additional gaming tax
Malta
In 2003, the Malta Lotteries and Gaming Authority made an announcement that they were putting together a new licensing regime dealing specifically with online gaming, such as online casinos, sports books and poker rooms. These measures were widely accepted and were subsequently rushed through, with a date set to launch operations in February of 2004. read more »
35% tax on companies with certain rebate claims.
Class 1: €4,658 per month for the first 6 months after the 'go live' date, and €6,988 per month thereafter.
Class 2: 0.5% on gross amount of stakes accepted.
Class 3: 5% of real income.
Class 4: Exempted from tax for the first 6 months, €2,329 per month for the next 6 months and €4,658 per month thereafter for the duration of the license.
Class 1 on 4: €1,165 per month after the 'go live' date.
Maximum gaming tax payable by one licensee shall not exceed €466,000
Netherlands Antilles
In 2002, internet gambling started playing a central role in Curacao's industry. The island decentralized online gambling from the Curacao Gaming Control Board, and they readily offer official licensing to all that pass the application process. read more »
2% of Net profits; no import duties, no sales (turnover) tax. Expatriate employees working from E-Zone are entitled to a special income tax regime. E-Zone permit required. Apply through E-Zone area manager at www.curacao-egaming.com
None
Panama
In October of 2002, Panama began offering internet gaming licenses to interested parties wishing to operate within their jurisdiction. Every internet gaming company registered within or hosted inside of Panama must be registered under the Online Gaming Act of 2002. read more »
None
None
UK
The Gambling Commission of the UK is six years into a new approach that allows for online gambling. The UK's gambling laws received a complete overhaul courtesy of the European Union directives and market pressure from the inside. Politics also played a dominant role in the decision. read more »
Refer to the Treasury website
Refer to the Treasury website
Vanuatu
Vanuatu may not be on the top list of vacation destinations around the globe, but they were among the first to capitalize on online gaming. The Vanuatu Government undertook a mighty task in 1999: an extensive research and analysis project, probing into e-gaming and examining the pros and cons. read more »
0.1% on fixed odds betting.
2.5% of gross monthly earnings
Gambling Newsletter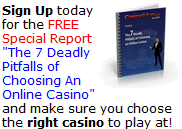 Casino of the Month
This month our online casino of choice is:
Sloto'Cash Casino


BONUS:

25% up to $270 FREE Slots Bonus
Link to Us
Linking is extremely important for search positioning.
Don't hesitate,
join our link exchange
NOW!


Add Your Site