Bio of Alice Walton


02 April 2011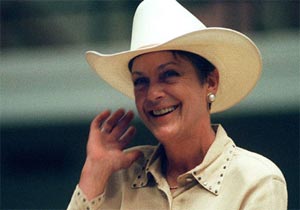 The daughter of
Walton
.673.asp?utm_source=feedburner&utm;_medium=feed&utm;_campaign=Feed%3A+CasinomanBlog+%28CasinoMan+Blog+on+Gambling%29" title="Wal-Mart">Wal-Mart founder the late Samuel Walton and his wife the late Helen Walton, Alice Walton is the third-richest woman in the world, and the second richest in the US, according to the Forbes list of female billionaires of 2011. Heir to the world's largest retailing enterprise; Alice Walton's worth is estimated to be $21.2 billion.
Born in Newport, Arkansas, on the 7th of October 1949, Alice Walton is the youngest of her siblings, and is also the only sister to her three older brothers: Samuel, Jim and John (deceased). Despite her father's business legacy, Alice Walton chose not to be directly involved or work in the
Family
business, and pursued a career in a different industry. She is, however, deeply involved in the Walton Family Foundation's philanthropic activities.
After completing her B.A. (Economics & Finance) from the Trinity College in San Antonio Texas, Alice Walton pursued a career in investment banking and finance, starting as an Equity Analyst at First Commerce Corporation at the time the largest multibank holding company in Louisiana and eventually went on to join the Arvest Bank Group as Vice Chairman (Investments). For a time, she also worked as a broker with E. F. Hutton's at New Orleans. However, a controversy with SEC later, she was suspended for 6 months, after which she returned to Arkansas.
In 1988 she started Llama Company, an investment company with her own capital $25 million in Fayetteville, in her native Arkansas. The company had a tumultuous decade-long run marked with successes and setbacks. Alice Walton eventually reassigned as CEO in October 1998, sometime after which the company was closed. During this time, through Llama, she helped finance and build the Northwest Arkansas Regional Airport which earned her praise from President Bill Clinton upon his visit there, as well as a terminal named after her -- Alice L Walton Terminal Building.
It was also around this time that Alice Walton was charged with drunken driving after crashing her car near her home. She was arrested and found guilty in a trial that resulted in a $925 fine and 28 hours of community service.
Upon her resignation from Llama, Alice Walton moved to a 3200 acres property in Mineral Well, near Dallas, Texas where she currently resides. Here, she went back to her first love - horses. She opened and continues to run Rocking W Ranch which breeds and raises cutting horses for competitions.
Alice Walton currently serves as a board member for the Walton Family Foundation, a philanthropic organization that works at the betterment of Northwest Kansas, focusing on education, community and environment. She headed the development of Crystal Bridges Museum of American Art in Bentonville, Arkansas an initiative of the WFF. She also runs Camp Eagle War - a summer camp for kids aged 7-17 on Beaver Lake, Arkansas.
Tags:
wal-mart
,
arkansas
,
llama
,
alice walton
,
walton family
,
bill clinton
,
Posted In:
Company History
,
Famous People
,
Want More Blog Updates and Email Newsletter With Best Online Gaming Tips?
Fill out the form on the right to join our CasinoMan newsletter and we'll drop you an email every 2 weeks with the latest blog posts.

We'll also periodically send you other useful gambling articles we publish which will keep you completely informed of the latest offers. This newsletter goes out 1 time per month.

Naturally, we respect your privacy.
Please be the first to leave a comment below.
Latest Blogs
Top 10 Online Casinos
Blog Tags
Casino of the Month
This month our online casino of choice is:
Sloto'Cash Casino

BONUS:
100% up to $100 FREE Slots Bonus