Category: casino theme
James Bond Plays the Casinos - The Top Five Scenes



18 June 2008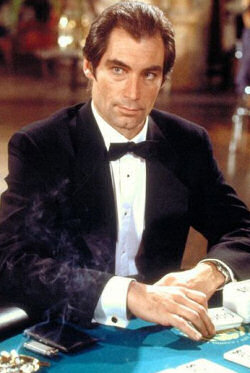 Although Casino Royale is an obvious clue that the movie will feature gambling, gambling scenes and James Bond's predilection for the game of Baccarat, this James Bond movie is far from being the only movie that includes scenes of Bond enjoying one of his favorite pastimes.
The James Bond character reflects everything that is the ultimate gambler--coolness in the face of danger, calm when the opponents are obviously increasing to the boiling point, intelligent enough to know when to play a hand and how to make the best use of the hand he is dealt, and oozing with self-confidence.
Casino Royale was written by Ian Fleming, with the casino scene based on a visit to the Casino Estoril located in Lisbon. In history, the Casino in Portugal's capital was a popular gathering place for German agents during World War II.
The novel and earlier versions of the movie have Bond playing Baccarat, but the signature movie capitalized on the increasing popularity of a game called Texas Holdem--a form of poker.
Tags:
james bond
,
monte carlo
,
casino royale
,
ian fleming
,
casino estoril
,
goldeneye
,
never say never again
,
thunderball
,
Posted in:
Movies
,
Casino Theme
, |
Comments (0)
A special preview of Quantum of Solace



21 May 2008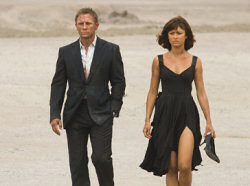 Quantum of Solace, the 22nd spy film in the James Bond catalog, is due for release in the United Kingdom on October 31st, 2008. It is the sequel to the critically acclaimed Casino Royale, in which Bond, played flawlessly by Daniel Craig, had to infiltrate a high-stakes poker game to apprehend a world-renowned terrorist.
Casino Royale won critics over partly by telling the story of how James Bond became 007. Through numerous bond films and multiple characters playing the role, viewers of the series were never granted access into Bond's personal love life. Though there had always been the evident Bond-girl, there was never a story about why James Bond never fell in love. In Casino Royale, the viewers see that Bond was betrayed and turned cold-hearted by his girlfriend, Vesper Lynd, played by Eva Green.
This sequel delves deeper into Bond's beginnings as a super-agent. After his initial break from love in the first film, Quantum of Solace picks up exactly one hour after the first ended. Bond is colder in this film and seems to have a taste for revenge.
Tags:
james bond
,
quantum of solace
,
daniel craig
,
judi dench
,
olga kurylenko
,
gemma arterton
,
007
,
bond 22
,
Posted in:
Movies
,
Casino Theme
,
Hollywood
, |
Comments (0)
Latest Blogs
Top 10 Online Casinos
Blog Tags
Casino of the Month
This month our online casino of choice is:
Sloto'Cash Casino

BONUS:
100% up to $100 FREE Slots Bonus