Category: architectural icons
Major Attractions Surrounding Las Vegas - Hoover Dam



13 July 2010
Nevada is far from the barren wasteland that some visitors of Las Vegas may think it to be. In fact, all the glitz and glamour of the city is possible because of the powerful Colorado River that runs through the state. That water is held off by the Hoover Dam, and besides also functioning as a power plant, the dam also serves as one of the country's hottest tourist attractions.
The Hoover Dam is located in the south of Nevada and shares a border with Arizona. The dammed water from the Colorado River creates Lake Mead (Nevada) and Lake Mohave (Arizona). Motorists can't miss it on highway US 93.
Hoover is absolutely huge, standing 726 feet high and covering 1,244 feet in length. The structure is what's known as a concrete arch-gravity dam, when it was built, it was years ahead of its time in terms of construction and sheer scale. The project was originally known as Boulder Dam.
Soccer City, Johannesburg - Stadium for South Africa's World Cup 2010 Final



21 May 2010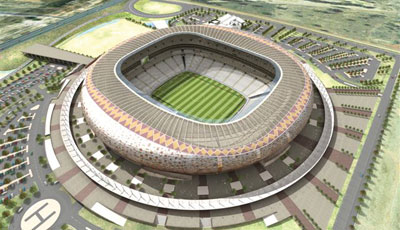 Johannesburg, South Africa is playing host to the 2010 FIFA World Cup. The city is so incredibly humbled by this honor that they've renamed their FNB Stadium in Soweto and are now calling it Soccer City. Unlike most of the usual sports stadiums around the globe, football (soccer) stadiums are a bit larger - Soccer City in particular seating 94,700 fans.
Soccer City is a beautiful stadium and up to par in terms of being football-ready. However, it wasn't always suited to play host to the world's biggest sporting event. In order to provide a home to the World Cup, FNB needed an extreme makeover. To consummate proud football fans, South Africa's authorities sprung into action quickly to revamp the stadium.
Basically, FNB Stadium was transformed from the ground up to become Soccer City. The stadium is an extremely important landmark to the South African people. It's where Nelson Mandela first gave a public speech after his release from prison, and also where Chris Hani's funeral took place.
Architectural Icons of the World - 30 Rockefeller Plaza, New York



27 April 2010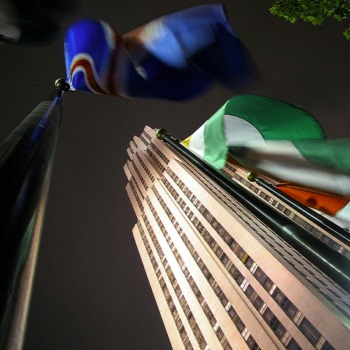 Visitors at Rockefeller Center in New York are not only looking at one of the most innovative centers in any modern city in the world, they're also looking at a microcosm of America - the real American dream. This is signified not by the centerpiece of the court, 30 Rock, but by the buildings surrounding it.
Rockefeller Center was built in 1938 and its 19 impressive buildings cover 22 acres of prime real estate in New York City. The wealthy Rockefeller family undertook this massive construction operation, with 30 Rockefeller Plaza, now the GE Building, being the biggest and most notable.
However, it's the two buildings on either side of 30 Rock that make the entire center even more impressive. The small, drab buildings on either side were privately owned businesses in the early 1900s. While Columbia University was quick to lease the land, and other owners were excited to sell, two business owners decided they didn't want their respective dreams to be part of a haughty building.
Architectural Icons of The World - Chrysler Building New York



14 April 2010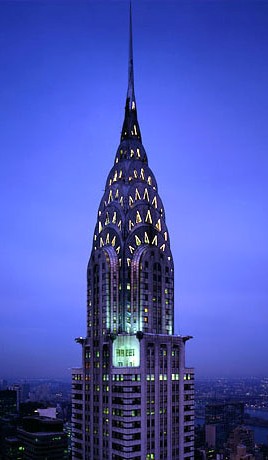 Built in 1930 and standing an imposing 77 floors with over a million square feet of viable space, New York City's Chrysler Building is one of the tallest skyscrapers in the world and held the record for the tallest from 1930 to 31. Chrysler is located at Turtle Bay in Manhattan and this Art-Deco style landmark is one of the city's most famous buildings.
Walter P. Chrysler decided he wanted a skyscraper built in New York in 1928. To help him see this dream to fruition, Walter enlisted one of the top Art Deco architects in the world, William Van Alen. No stranger to complicated designs featuring elaborate exteriors with simplistic interiors, Val Alen's design made it possible for the building to be constructed at an unheard of rate of 4 floors per week.
During the period, there was somewhat of a race among property owners to see who could build the world's tallest skyscraper. When the Chrysler Building was completed in 1930, it held that top spot until the Empire State Building was finally completed the following year.
The Royal Albert Hall, London has played host to nearly 200,000 shows



03 December 2009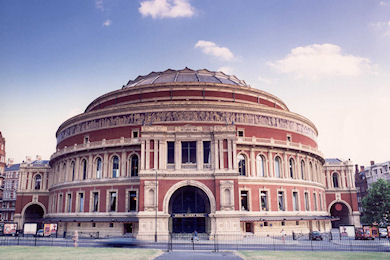 England has been offering up some of the world's best entertainment for centuries, and in the City of Westminster in London, the Royal Albert Hall is perhaps the area's most well known arts venue and a recognizable venue all across the globe.
Although the Hall has only been open since 1871 and has only been playing Summer Proms concerts since 1941 when they were bombed out of the Queen's Hall, its legacy is as detailed as London itself.
To date, Royal Albert Hall has played host to nearly 200,000 shows, including opera, ballet, awards shows, rock and classical concerts, school events, and even tennis matches among other events. Supposedly, the Hall was to be the Central Hall of Arts and Sciences, but Queen Victoria decided to change the name to honor her dead husband, Prince Albert.
Sydney Opera House - A World Heritage Site since 2007



05 November 2009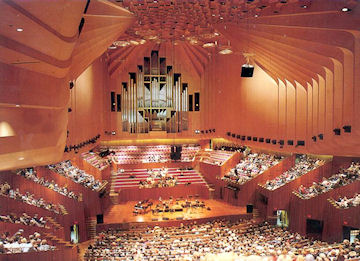 Australia isn't readily known for their displays of architecture throughout the world, but one modern marvel changed that perception and stands out as one of the grandest concert halls on the planet. The Sydney Opera House is a true architectural feat, showcasing man's ingenuity and grasp of structural integrity.
Sitting directly on the harbor and enjoying World Heritage Site status since 2007, this lavish, expansive structure is as recognizable as the Statue of Liberty, the Eiffel Tower, and other great monuments of the world. It is to Australia what the Colosseum is to Rome, and the Opera House has become the paradigm symbol of Oz.
Situated on Bennelong Point, the peaked Opera House towers above the shoreline and makes up most of Sydney's skyline on the shore. The iconic structure was designed by Jorn Utzon, a Danish architect, and resembles a ship at full sail. It was a challenging structure to build, but one that Utzon met head-on.
Latest Blogs
Top 10 Online Casinos
Blog Tags

Casino of the Month
This month our online casino of choice is:
Aspinalls Online Casino

BONUS:
10% bonus up to £2000