Tag: new york
Big Apple Helicopter Tour of New York



30 June 2011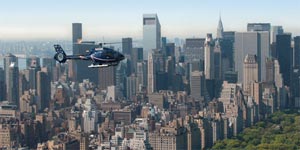 New York has many famous buildings and landmarks, but walking around such a busy city you'll probably miss many of them or find long queues to see the sights you want. So why not treat yourself to the Big Apple Helicopter Tour of New York?
The tour lasts around fifteen minutes, which may not sound very long, but the agility of the helicopter along with its unrivalled access from the air, means that you'll get to see all of the attractions during that time. You will be able to see some of the tallest buildings at their finest, rather than straining your neck trying to look up at them. To top it off, you sit in your own private cocoon, without anyone trying to barge past you or ask you to move along.
You'll start at New York's Downtown Heliport, near the financial centre of Wall Street. Your flight will take you past the World Financial Centre, the Art Deco grandeur that is the Chrysler Building and the iconic Empire State Building, although giant apes climbing up the side may not be available.
New York City Harbour Lights Night Cruise



30 June 2011
New York is one of the most memorising cities in the world. From Broadway to the Statue of Liberty, almost every street is legendary. However it's only the roads and boardwalks that are special, the river and harbour have their own unique stories to tell.
The best way to witness and understand this is to take a night time cruise. Make your way to Pier 83 and step aboard your vessel. Here you can sit in comfort and marvel as your host guides you with a full commentary of your journey.
You can sit and watch the sun setting and the moon rising over the Manhattan Skyline. As darkness descends you can watch the reflection of the city lights as you view the riverside landmarks. Some of the sights on the tour include the Brooklyn Bridge, the Ellis Island immigration centre and the Statue of Liberty herself. Some 12 million immigrants passed by Liberty and went through Ellis Island between 1892 and 1954, making it one of the major points of entry for migrants entering America.
Washington DC Day Trip from New York



19 June 2011
New York is a great place to visit, however what if you want to go and explore a little bit of the United States, well one option is a day trip to the capital city, Washington DC. The trip takes place on a fifteen seater, fully air conditioned bus, providing you with comfort and a good view of the scenery.
The Bus will pick you up from Grand Central Station. Building of the current Station was completed in 1913, although there has been a rail road terminal building on the site since 1871. Get there early and look around the architecture, especially the astronomical ceiling, devised by brothers Warren and Paul César Helleu.
Once aboard, the Bus will take you on a brief stop to Madame Tussauds. Here you can have your photo taken with President Obama and visit a replica of the Oval Office. You won't be allowed to visit any of the other areas of Madame Tussauds, but nor would you want to as you'll be missing out on a fantastic journey.
Manhattan Sky Tour New York Helicopter Flight



11 June 2011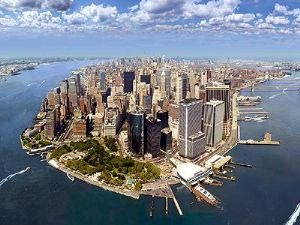 To get a really perfect view of New York a Manhattan Sky Tour helicopter trip is simply out of this world. On arrival at the heliport passengers are greeted by a team of friendly professionals who will take them for a helicopter tour right over this amazing city. The tour lasts around 12 exhilarating minutes with a bird's eye view of the New York skyline as the chopper soars above the most famous landmarks in the world.
From start to finish this tour has the safety of all the passengers very much at the fore front of the every tour they organise. Their friendly team shows a safety video in the hangar prior to take off to ensure that everyone is put at ease before they get on board for the ride of their lives.
The experienced pilot knows every landmark that he flies passed so passengers can get their cameras out and ready for some great shots as they fly over them. This helicopter tour is a must for any visitor to New York as it offers them a once in a life time opportunity of not only taking photos of the Manhattan skyline but it's also a great way of learning some of the history of this great Metropolis.
Walking Tour with Professional Photographer in the Big Apple



17 April 2011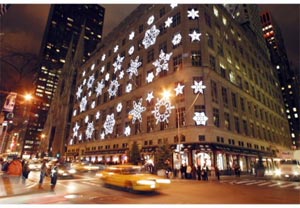 The New York City Walking Tour with Professional Photographer offers an irresistible chance for visitors to explore the city with a photographer as the tour guide. However, not everyone can afford professional cameras and posses the skills of handling them. Traveling with the heavy bulk is not an easy feat either, so most people prefer the handy and lightweight digital cameras which produce pictures of far less quality.
The assigned photographer is charged with the duties of bringing the customers to the famous landmarks around New York City and to offer his photography service when needed. Services can be catered from individual to group tours but not party tours where you walk around with complete strangers. This is certainly a perk to those who prefer to take a stroll to the places at their own pace.
New York City is a big place and it is quite impossible to finish up a tour on foot here. The majority of the tour is concentrated around the Manhattan area such as the Downtown and Midtown Manhattans, where many famous attractions are found. Pictures can be taken overlooking the famous Rockefeller Centre, the busy 5th Avenue and more along the Soho and Greenwich buildings around Downtown Manhattan.
Get Down with the Beat: New York Hip Hop Tours



13 April 2011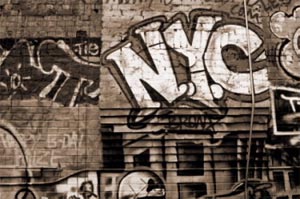 The music world is revived with the upbeat tunes of a new genre in late 1970s. This genre has not only brought about new entries into the music scene but has developed a culture of its own, namely hip hop. The hip hop culture originated from the urban South Bronx in the United States by the African Americans.
The Harlem-Bronx New York Hip Hop Tours provide the opportunity for people to explore and learn this distinct culture; starting at the birthplace itself! The offered tours provide an insight into the basic elements of the hip hop culture; music, dance and art graffiti. There are selections of tours which can be booked through the two main companies; Hush Hip Hop Tours and Harlem Hip-Hop Tours.
Hush Hip Hop Tours have more varieties of tours to choose from while the Harlem Hip-Hop Tours offer just one type of tour which is the "Hip-Hop On. Hip-Hop Off. Tour". One thing in common though, the tours by both companies are conducted by hip hop legends whom are sure to provide a lively tour experience to the crowd.You will sure be entertained by the live DJ and emcees throughout the tour.
La Prairie Spa



08 April 2011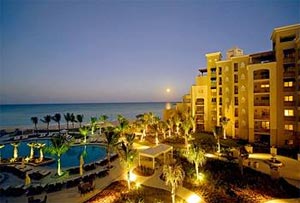 The Ritz Carlton Spa in New York is the epitome of sophistication and style for people living the fast paced urban lifestyle. Set in one the world renowned Ritz chain hotels, you are guaranteed a break that will make you forget all your worries and woes.
The spa contains six serene treatment rooms where you can experience one of the many invigorating therapies in privacy, as well as his and hers steam rooms designed to open up the pores in your skin in preparation for one of the revitalising treatments.
La Prairie Spa at the Ritz Carlton is inspired by Switzerland's first stateside spas, and is a wonderful escape from the city streets where thousands of people rush about hour after hour, day after day. You can really relax and unwind in the hands of trusted experts.
A Review of the Private New York City by Chauffeured Classic Convertible Tour



23 February 2011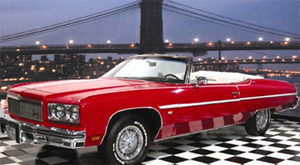 The Private New York City by Chauffeured Classic Convertible Tour is definitely not one to be missed if you're in New York on vacation. This really is the classiest of NYC tours, and you'll feel like a movie star as you ride the streets of The Big Apple in style.
You'll be driven by your very own personal chauffeur in a classic 1975 Chevrolet Caprice. The chauffeur is always a born and bred New Yorker, with extensive knowledge of the city, and will take you to the most interesting parts as well as giving you expert commentary of the areas.
The tours generally last around two hours, which is the perfect amount of time for a romantic date around the bustling streets. You'll visit several of the most popular locations of the city.
A Short Biography of S Robson Walton



21 February 2011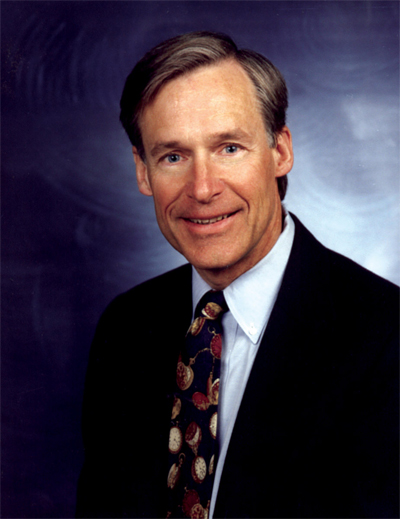 This short biography of S Robson Walton, chairman of the world's largest retail chain, has been written to give you an insight into the USA's 4th wealthiest citizen. He is also the world's 18th richest man as of October 2010.
S Robson Walton was born in 1945, and was the first son of Sam Walton, who was the founder of Walmart. As a young man Walton attended the College of Wooster in Ohio. He then went on to the University of Arkansas.
At university he studied business administration and subsequently graduated with a bachelor of science in the subject in 1966, and later in 1969 he received a jurisprudence doctorate from New York's Colombia University School of Law.
Niagara Falls Day Trip from New York by Air



19 February 2011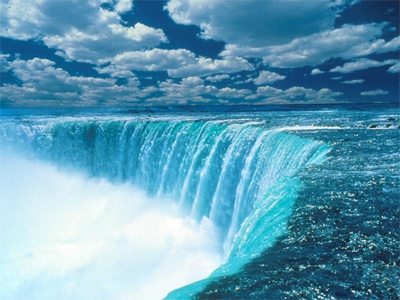 If you are visiting New York then you just have to visit Niagara Falls, even if you are just on a weekend break there is no excuse with the Niagara Falls day trip, from New York by air. The day trip to this magnificent thunderous product of the last ice age is now possible in as little as 12 hours. With round trips from mid town New York to Upstate, then on to Buffalo airport for a quick transfer to the Falls.
The River Niagara stretches across the Canadian - United States border in both the state of New York and the Province of Ontario, carved by relentless ice sheets 18,000 years ago. Niagara Falls is the second largest water fall in the world to the Victoria Falls of South Africa. The awesome power of the combined 750,000 gallons of water dispersed over the American, Bridal Veil and Horseshoe Falls every second makes this an inspiring place to visit.
New York TV and Movie Sites Tour



19 February 2011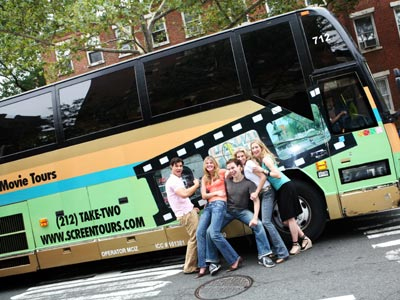 New York City has been centre stage on the big screen since filming began and over the years has become the most filmed city in the world. The New York TV and movie sites tour takes you round this exceptional city of stardom, stopping at all the most filmed places for your recollection of movies past and present. You will be taken behind the scenes of once midtown and uptown Manhattan film sets, where you can relive the movie experience.
You can check out TV hotspots from famous shows like; The Sopranos, Sex and The City, Gossip Girl and films such as; Taxi Driver with Robert Di Nero and Breakfast at Tiffany's. Go behind the scenes of popular shows such as; Ugly Betty, Law and Order and friends. You can take a break at these classic TV hotspots with a coffee or bite to eat and picture the stars walking by in there acting roles.
The list of films for which this city has played host is endless with top blockbusters including; Ghostbusters, Spider-Man, I am Legend and the Devil Wears Prada. All the sets from the different locations of Upper West Side, Columbus Circle, Central Park West and Upper East Side can be visited on the New York TV and movie sites tour, even off the beaten track locations don't get left out of this fun packed adventure.
Top of the Rock Observation Deck, New York



09 February 2011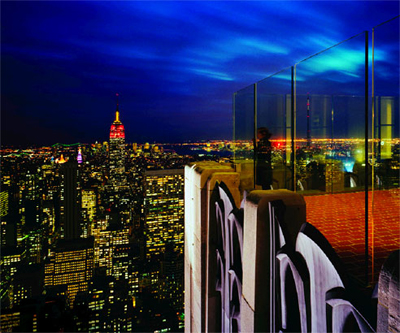 The Top of the Rock Observation Deck in New York really is just that "Top of the Rock"! The panoramic views of Manhattan cannot be seen like this from anywhere else in New York. Standing on the 70th floor of the Rockefeller Plaza the Top of the Rock Observation Deck gives the visitor an uninterrupted view of all the major sites of New York. If you want to see man made landmarks in all of New York's glory from the Chrysler Building to Times Square and the Statue of Liberty then Top of the Rock is the place to go.
The Observation deck is open 365 days a year from 8 am until midnight, even if you have visited during the day before the night time is a completely new experience. The illuminations of the surrounding landmarks really come to life and cast a vibrant glow over the whole city, giving it clarity and a sense of surrealism. Take as many pictures as you like but they will never express the feeling that you get when actually standing on the Top of the Rock personally.
A Short Biography of Michael Bloomberg



04 February 2011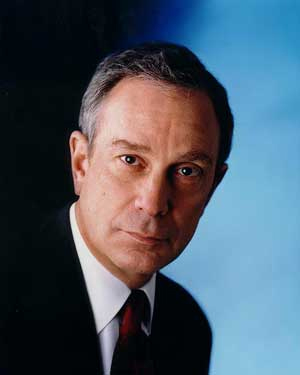 Want to expand your knowledge of some of the world's most successful people? This short biography of Michael Bloomberg may well be of interest if you're curious about how he came to be where he is today.
Born on 14th February 1942, Michael Rubens Bloomberg as he was named by his parents started out life in the Boston neighbourhood of Brighton. His father, a man with roots from Russia was a real estate agent. His mother was also the daughter of a Russian family and has lived past 100 years of age.
Until Michael was 2, the Bloombergs continued to live in their home in Boston before relocating to Brookline in the state of Massachusetts, and finally settling back in Boston, in the town of Medford. Michael Bloomberg lived here until after he completed college.
A Review of the Long Island Wineries & Outlet Shopping Tour in New York City



01 February 2011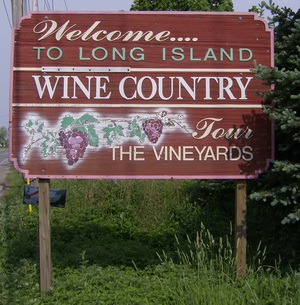 The Long Island Wineries and Outlet Shopping Tour of New York is the perfect day trip to experience the culture at the heart of the famous American city. It's well suited to couples and friends alike.
This day trip would be an excellent gift for the wine connoisseur, as New York wines are extremely high in quality and famous throughout the globe. The day is coupled with a wonderful guided shopping trip to the best outlets.
The tour starts off at Riverhead, where you will enjoy a lovely country style breakfast with breathtaking views of the beautiful scenery. From there you will continue on to the North Fork, which is the wine making hub of New York.
A Review of Jubilee! At Bally's Hotel & Casino



11 December 2010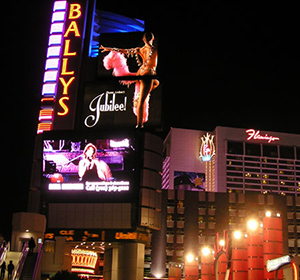 If you're looking for a grand hotel in Vegas,it doesn't get much more grand than Bally's Hotel and Casino on the world famous Las Vegas strip. Vegas, dubbed the adult's playground is the perfect place to get your glad rags on and have a real good time.
And one of the most fun attractions of Vegas is the plentiful shows for all tastes. Read on for a review of Jubilee! at Bally's Hotel and Casino.
Bally's is a gargantuan hotel with 2814 oversized luxurious rooms, each of at least 450 square feet in size. The hotel features a moving sidewalk covered in neon lighting, which transports customers from Las Vegas Boulevard to the entrance.
The hotel has two theatres. One of which, the Zeigfield, is home to the hit show Jubilee! It has been running for just under 30 years and is one of Las Vegas' most popular shows. Choreographed by Donn Arden, this masterpiece will blow you away.
City Review of Bridgeport, CT



30 September 2010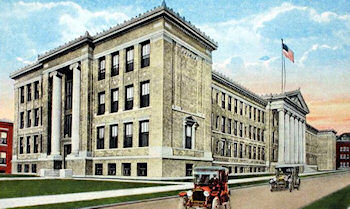 Although it's a relatively unheralded destination on the world scale, Bridgeport, Connecticut, USA, is one of the most historic and most populated cities in the country. Bridgeport is the core of the Greater Bridgeport area, and is also part of the New York statistical area which includes all five boroughs and even parts of New England.
Unlike many other vacation destinations and famous cities in the United States, Bridgeport doesn't bring in gamblers, those looking for entertainment, or even really the honeymooner crowd. Bridgeport offers more history than anything, and with famous people like circus promoter P.T. Barnum to its credit, Bridgeport is steeped in the historic.
When Bridgeport was first inhabited, most of its residents were either farmers or fishermen. Its proximity to water and mass of fertile soil made this area very appealing to settlers hoping to carve out their respective niche in the American landscape.
All-time Icons of Cinema - Robert Redford



16 July 2010
Actor, director and mainstream political activist Robert Redford was born on August 18, 1936 in Santa Monica, California. Over the course of his long career, Redford has become increasingly generous with his charitable donations, and also increasingly political, famously standing directly against the latter Bush administration.
Redford was born Charles Robert Redford, Jr. and was an extremely talented baseball player when he was young. In fact, Redford landed a baseball scholarship and played at the University of Colorado in Boulder in 1955. Robert was one of the top college prospects in the nation until his mother died suddenly, leaving Robert shattered.
After being kicked off of the baseball team for drinking and an overall lack of performance, Redford set his sights on becoming a painter. He took a job at a Los Angeles oil field solely to fund his ambitions of moving to Paris and attending art school. He ended up studying with artists in Italy, but by 1958, Redford grew bored of the life.
Biography Of The Singer And Film Star Liza Minelli



19 June 2010
Liza Minnelli was born on March 12th, 1946 in Hollywood, California to Judy Garland and Vincente Minnelli. Her parents were both active in the film industry her father was an acclaimed film director and her mother was successful in both film and music. While in High School she went to Fiorello H. LaGuardia High School of Music & Performing Arts in New York.
At the young age of three Minnelli first appeared on film in a movie with her mother called In The Good Old Summertime. It wouldn't be until 1963 that Minnelli would first start performing professionally on a regular basis. She won the Theatre World Award for her performance in The Best Foot Forward in 1963.
Minnelli was also active in the music industry when she was 19 she made her debut as a nightclub singer at the Shoreham Hotel in Washington, D.C. In the years to follow she would appear in stage performances in Las Vegas, Los Angeles and even New York City. It would be this success that would give her the opportunity to record a number of albums for Capitol Records including Liza! Liza.
Architectural Icons of the World - 30 Rockefeller Plaza, New York



27 April 2010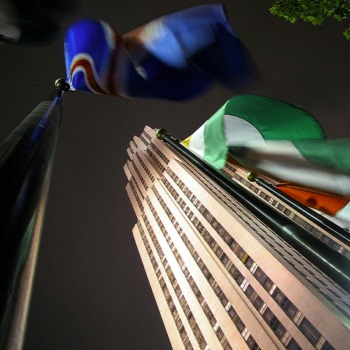 Visitors at Rockefeller Center in New York are not only looking at one of the most innovative centers in any modern city in the world, they're also looking at a microcosm of America - the real American dream. This is signified not by the centerpiece of the court, 30 Rock, but by the buildings surrounding it.
Rockefeller Center was built in 1938 and its 19 impressive buildings cover 22 acres of prime real estate in New York City. The wealthy Rockefeller family undertook this massive construction operation, with 30 Rockefeller Plaza, now the GE Building, being the biggest and most notable.
However, it's the two buildings on either side of 30 Rock that make the entire center even more impressive. The small, drab buildings on either side were privately owned businesses in the early 1900s. While Columbia University was quick to lease the land, and other owners were excited to sell, two business owners decided they didn't want their respective dreams to be part of a haughty building.
Carnegie Hall - One of the world's best known concert halls



03 March 2010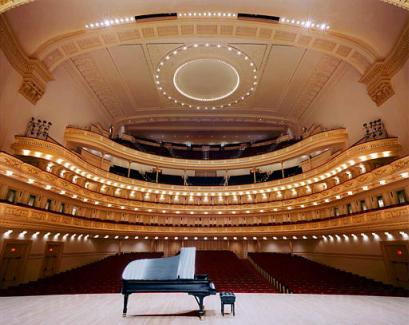 Carnegie Hall, located on Seventh Avenue in Manhattan, New York is by far one of the worlds best known concert halls. The hall itself consists of three different performance spaces which include the Issac Stern Auditorium or the Main Hall, The Zankel Hall, and the Weill Recital Hall. All of these halls vary vastly in size with the Main Hall being the largest and having the seating capacity of 2,804 people.
There is more to Carnegie Hall than just its performances spaces; it also houses the Rose Museum which has been in operation since 1991, and the Carnegie Hall Archives which have been there since 1986. It is in both of these places that you can see and experience the history that Carnegie Hall holds. The studios above the hall also hold a lot of history, as artists from all walks of life have lived in them over the years.
Carnegie Hall has housed many big name performers in its venues over the years. Many of the greatest classical music performers have had the divine pleasure of being able to perform at this venue. Judy Garland, Harry Belefonte, and Stevie Ray Vaughan have all recorded live albums at Carnegie Hall.
Concorde - The fastest commercial airliner in history



26 January 2010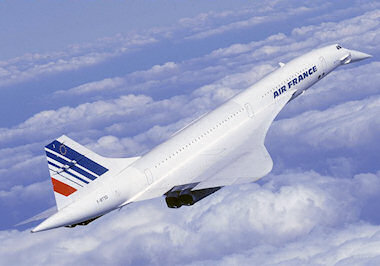 The Concorde is a type of commercial airliner that flies through the skies well past the sound barrier. The plane is so fast that, on a cross-country trip from New York to California, it can actually land on the west coast before it took off from the east - according to the time zone differences, obviously.
Although the Concorde is a commonplace and popular aircraft today, there's a story behind this airliner, showcasing a few struggles along the way. This story of officially begins around 1956. In November of that year, the Supersonic Transport Aircraft Committee was developed and funded in order to study supersonic air travel, and namely build an airliner that could break speed records.
For the next three years, the top engineers in the field worked to develop various plans and test theories, and were ultimately set on 2 separate designs for an airplane. This was a merger between the British Minister of Aviation and the French; the two countries would split the cost. This was a hard-fought battle, and it took the Sud Aviation of France and the British Aircraft Corporation a long time to reach an agreement in 1961.
Ronnie Scott's London - The Legendary Jazz Club



21 January 2010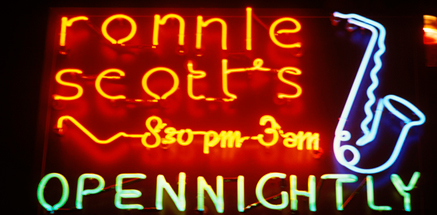 Ronnie Scott's Jazz Club is one of the hottest locations in London and has been for decades now. Although jazz isn't necessarily the most popular music, especially true in London where electronic clubs and the young crowd rule the roost, the 1950s nostalgia still draws in a healthy crowd, and anybody who's anybody in the world of jazz has played a spot at the now famous club. Opened in 1959, Ronnie Scott's is pushing past half a century and is still going strong.
When a young Ronnie was only 20, he took a trip to New York - the height of the world's jazz scene in the late 40s. Scott was a respected saxophonist in his own right, but he blended in with the crowd in New York's plethora of middling jazz musicians.
However, the trip was well worth it to Ronnie, who, because he lived in England, had virtually no chance of ever seeing any of the legends in person that he did while in New York. After Scott's two-week stay in the Big Apple, he headed back to London with aspirations of opening his own jazz club.
Princeton Club - a private club for alumni of USA's most elite universities



30 November 2009

New York City is extremely well-known for having many extravagant and exclusive clubs. The Princeton Club of New York, one of the city's oldest, was founded in December of 1899.
Although Princeton is located in New Jersey, just a stone's throw across the river, New York City was the perfect place to open up an establishment catering to the faculty and alumni of the prestigious Princeton University. When it first opened the Princeton club had four separate homes. Today, the club is situated in a single building, located at 15 W. 43rd Street in Manhattan.
As with many of the early elitist alumni clubs in the area, only men-white men-were allowed membership. However, Princeton's private club would eventually loosen their standards and accept women as members in the 1970s. Minorities were soon to follow.
World's Most Exclusive Hotels - Kahala Mandarin, Honolulu



26 November 2009
The Mandarin Oriental Hotel Group has set up shop in some of the world's finest locations. Their name is now synonymous with luxury, and nearly every one of their lavish resorts earns high acclaim and is visited by millions of tourists every year.
Mandarin Oriental Hotels can be found in Bangkok, London, Hong Kong, New York, Boston, Miami, and even in Hawaii - via the group's Kahala, Honolulu location.
Kahala makes a wonderful setting for the type of luxury resort Mandarin brings. This small stretch of beachfront island is among the most popular of the Hawaiian chain, and the small neighborhood that plays host to the hotel is also host to lavish homes averaging $3 million a piece.
Overview of The Leading Auction House Sotheby's



03 September 2009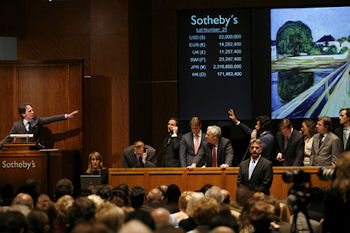 As the third largest auction house in the world, Sotheby's enjoys the type of name recognition that only few companies in world history have had. Today, Sotheby's has a few locations open.
Their New York location is one of the premier auction houses in the world. Sotheby's headquarters is in London, England, and they have additional auction houses set up in Moscow and Hong Kong. There's also a Sotheby's International Realty, a subsidiary of the auction houses.
Sotheby's was founded in London in March of 1744 by Samuel Baker. At the time, the house was known as Baker's, and it gained recognition after Samuel procured a slue of rare books from the library of Sir John Stanley. These items were not auctioned off, and Baker's wasn't well known for selling much of anything in its early years.
World's most Exclusive Bars - 21 Club



25 August 2009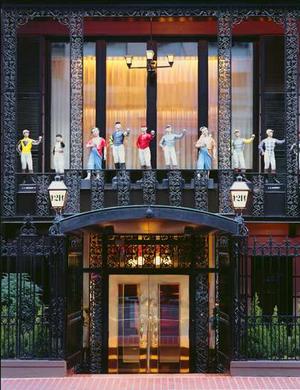 America is a culture that works extremely hard to glorify excess. It is how money is made, pure and simple. We see this predominantly in the many alcohol advertisements on the TV; however, it wasn't always like that.
America went through a long period of prohibition, where all alcoholic beverages were forbidden to be sold or consumed. As a result, many establishments opened "underground" and were referred to in some circles as speakeasies. One of the most famous speakeasies of the era was the 21 Club in New York - opened on New Year's Eve 1930.
The club had first opened in Greenwich Village in 1922 as a speakeasy, but it wasn't until it reached its destination of 21 West 52nd Street that it adopted its now current name. After the police raided the establishment, the wine cellar was placed behind an extremely large steel door where it remains to date. This raid was the first of many to take place during the prohibition era, but the owners were never caught in possession of alcohol.
Exclusive Members' Clubs of the World: Soho House, London



11 August 2009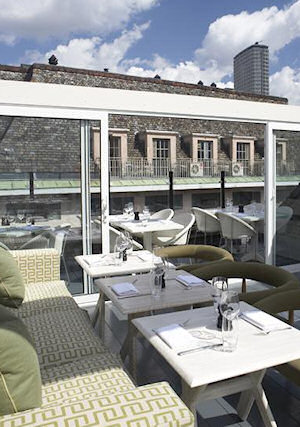 Located at 40 Greek Street in London, England, the Soho House is an ultra-exclusive private members club that offers a relaxing atmosphere for guests who like to lounge in comfort and be left alone. However, the bars and entertainment at Soho House also make it a place where members can let their hair down and go a little wild if they feel the need to do so.
The house can act as a members' only club for gathering friends and family, or it can be a private movie theater if you have the right connections for an early screening of a Hollywood blockbuster, or Soho House can even provide your own private party hall. It all depends on what the members want.
Soho House is technically 5 floors of luxury available only to members, but it's listed as only 3 floors. You have the house basement, the first, second and third floors, and then the roof deck and terrace.
Biography of Donald Trump



28 July 2009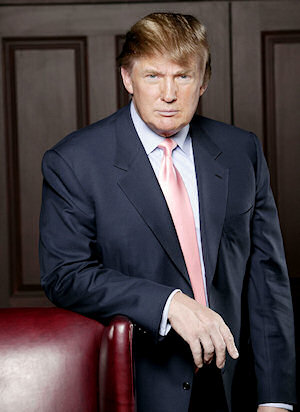 Donald Trump is the world's most recognizable billionaire. With a net worth of three-billion, Trump is low on the list of the world's richest men, but he would quickly sue you for saying that. He's famous for his outlandish character, horrific hairpiece, bouts with Rosie, and trying to build a structure on any piece of land he sees.
Through his quirkiness and eccentric behavior, Donald Trump is still one of the world's foremost businessmen. He is single handedly responsible for bringing Atlantic City back to life, and his hotels are among the world's finest. Trump has been married three times and has five children.
Donald John Trump was born June 14, 1946 in New York City, New York. Fred Trump, Donald's father, was a successful property developer who helped him form a business sense and a taste for the lifestyle.
Top US Restaurant Review - Delmonico's, New York



20 July 2009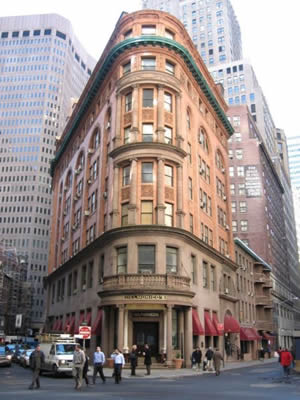 New York City is perhaps the world's most famous city, and that's saying a lot when you consider Rome, London, Paris, and other major metropolitan areas across the globe. Whether you refer to NY as the Big Apple, the City of Dreams, or just plain home, one thing's for sure: this city is a hotbed of constant activity.
New York has long been known for its many great restaurants, and if you ask lovers of fine dining, Delmonico's is the absolute best in the business. Judging by its popularity today, it's not hard to believe that Delmonico's has been around since the early 1800s.
It is one of America's first continuously run restaurants, and is hands down the first-and still premier-fine dining establishment. In the early days of the restaurant, it was much more of an eatery, or cafeteria, allowing diners of all walks of life to come in and try food a la carte style.
Top Fashion Brand Overview of Burberry



08 July 2009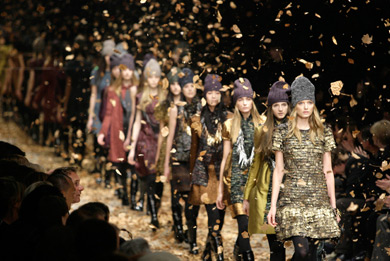 It's not always a bad thing to be considered a one-trick pony. Just ask Burberry. Although their style has contrasted some over the years, the basic appearance for all their clothing and accessories is the same: the check pattern.
This distinctive pattern has gone against the grain of conventional wisdom; the plaid-laden knit is among the most in-demand in the world of fashion.
Burberry has a string of accessories such as bikinis, sunglasses, perfume, and more, but it's their handbags and coats that made them famous in a fashion sense. Many of today's most wealthy and famous individuals religiously carry their Burberry bags.
Top Fashion brand review of Tiffany & Co.



06 June 2009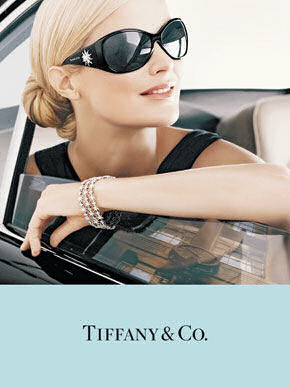 Tiffany & Co. is one of the world's most legendary designers of premium goods. Unlike other fashion brands, T&C; deal strictly in accessories such as jewelry, watches, glassware, lamps, bags, and more.
While most fashion is judged on a simple set of criteria that includes originality and appeal, Tiffany goods are judged on their quality and painstaking craftsmanship. Long before the modern "bling" era of jewelry, Tiffany was the A-#1 designer in the land, dominating the 1990s in earnings and popularity. "He went to Jared" was never heard. Instead, one word said it all, "Tiffany."
In 1837 Charles Lewis Tiffany and lifelong friend John Young made the trek to New York from New England with a dream of designing high-end jewelry. After a few years of dabbling around and attempting to form a legitimate business, the duo opened Tiffany & Young, a stationery and goods emporium on Broadway in NYC.
Worlds Top Fashion Brands - Calvin Klein



15 December 2008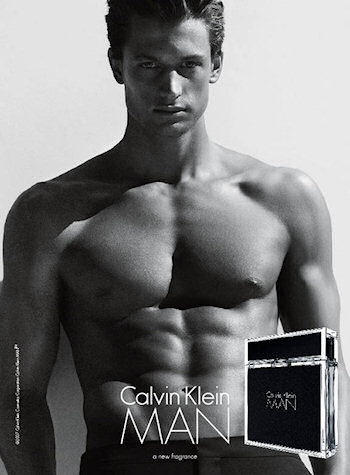 On a world scale, American fashion designers don't often get a lot of credit for being unique and original. But with Brooklyn's own Calvin Klein, the stigma of Euro-influence disappears, and what you're left with is a fashion label that has grabbed the world's attention and refused to let go.
In the late 1940s, Klein began to develop a knack for sketching and sewing outfits for women. He would earn a scholarship to the New York High School of Art and Design, and the Fashion Institute of Technology. And the more impressive feat here is that America's tastes were decades behind Klein's talents, yet they were recognized by an ultra-conservative nation.
The Four Seasons Ty Warner Penthouse



30 November 2008
New York New York, big city of dreams. We've all heard that line before. And if you've ever ventured into Manhattan, the grandiose displays of ultra-luxurious hotels and mega-expansive buildings do look somewhat like a dream.
On the "Luxist List," a well-regarded poll of the world's most expensive and elegant places to stay, the Ty Warner penthouse tops the 10-most list at number-one. Available at the Four Seasons in Manhattan, the Ty Warner room is an insanely popular draw. However, more people like to talk about it than purchase a night's stay in the posh penthouse. Ty Warner is the CEO of Ty Inc., creator of the Beanie Babies and owner of the Four Seasons. His estimated net worth is around $6-billion.
The Ty Warner Penthouse cost $50-million to construct, and was designed by acclaimed architect I.M. Pei, Peter Marino, and Ty Warner even lent a helping hand. The breathtaking views of Manhattan are literally indescribable.
Latest Blogs
Top 10 Online Casinos
Blog Tags
Casino of the Month
This month our online casino of choice is:
Bet365 Casino

BONUS:
Enjoy 150% bonus up to £150 for a limited time only