History of Slot Machines
Charles Fey invented the first slot machine in 1895. In 1907, Fey teamed up with the Mills Novelty Company and then manufactured the Mills Liberty Bell. The Liberty Bell featured a cast iron case, with a classic Liberty Bell cast into the front of the machine.
The machine originally had cast iron feet with toes. In later models the toes were eliminated and replaced with ornate scrolled feet. The machine's reel strips depicted playing cards (the king, queen, and jack). It also had a bell that rung when you hit a winning combination. Unfortunately, the ringing bell was quickly dropped. The original concept, however, was not lost because nowadays, modern slots have a bell which ring to signal that a player has hit the jackpot.
In 1910, the Mills Novelty Co. introduced a slight variation to the Liberty Bell and called it the Operator Bell. This machine had a good neck coin entry and featured the now famous fruit symbols.
These cast iron slots are heavy, weighing in at over 100 pounds. Over
The era of cast iron machines ended in 1915, when Mills introduced slot machines with less expensive wood cabinets. In the early 1930s, the Mills Novelty Company made a number of additional changes to its line of slot machines that revolutionised the industry.
First, it designed its machines to be much quieter. . ."so you couldn't hear it a few feet away". That's why its 1930s machines are referred to as the "silent bell".
Then it introduced a double jackpot that assured players that one could win twice in quick succession.
To make its machines memorable and enticing to players, Mills introduced a series of cabinet designs that were striking and colourful, each with its own theme. The first in early 1931 was the Lion Head. In late 1931, it was the War Eagle and the Roman Head, and in 1933, it was the Castle Front.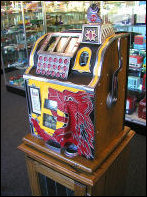 The Lion Head still utilised the gooseneck coin acceptor that was the standard for the 1920s. The War Eagle, however, featured a new coin acceptor that displayed the coins played moving one by one across the top of the machine. This feature, not only added additional movement, but also provided the operator extra security by allowing him to more easily check whether slugs were being used.
Gambling Newsletter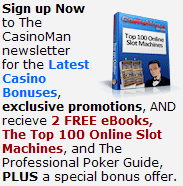 Casino of the Month
This month our online casino of choice is:
Jackpot Party


BONUS:

100% match bonus up to £150 free