Charles Fey 1862-1944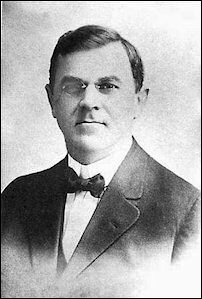 Born: Bavaria, Germany Feb 2, 1862
Died: San Francisco, USA Nov 4, 1944
Charles Fey
(1862-1944) was a pioneer slot machine inventor, manufacturer and operator. In 1895 he created the Liberty Bell, the forerunner of more than a million slots that would be manufactured over the next 100 years. These machines evolved into today's, popular, modern casino slot.
Charles Fey
was born as August Fey on February 2, 1862, in a small village called Vohringen, in Bavaria. He was the youngest child of 16. During a school vacation, at the age of 14, he joined his older brother, Edmund, to work in a farm tool factory in Munich. There, he first discovered his passion for mechanical devices. After returning home, the difficulties of living in his father's strict household, and the risk of being drafted into the German army, made the opportunities found in America very appealing. His uncle, Martin Vollman, had successfully immigrated to New Jersey in the 1850's, and therefore August decided to follow. He left home at the age of 15, and headed for France where he took a job with an intercom equipment manufacturer. He saved just enough money to cross the English Channel, and lived in London for the next five years. There he worked as a nautical instrument maker while he saved for passage to America. Having saved enough money, he sailed to America and arrived in New York. He lived with his uncle's family, which left back to Germany shortly after. Fey, now with no relatives in the new world, then decided to leave the harsh winters of the Northeast and started his journey to California. He arrived in San Francisco during the spring of 1885 and took various jobs as a mechanist. Shortly after he was diagnosed with tuberculosis and was given less than a year to live, but he did manage to recover. And picked up his life again by finding permanent employment at the California Electric Works company, at the age of 25. Fey married, Marie Volkmar, a native Californian, with whom he had three daughters and a son. In 1889 Fey's content with his new life in the new world, led him to Americanize his name, and he changed from August Fey to Charles August Fey. Influenced by the abundance of nickel-in-the-
slot machines
in San Francisco, Fey built his first machine in 1894. It was a three wheel machine, and was very similar to one first made the previous year by Gustav Shultze, a known manufacturer and operator of slots.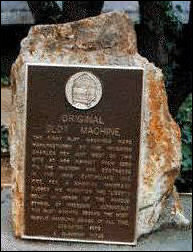 The first plaque to
Charles Fey
and his Liberty Bell slot was placed in San Francisco during 1980 by E Clampus Vitus at the Fey factory site. Three years later, California Historical Landmark 937 replaced the clamper plaque. In October of 1997 the city fathers of Vohringen, Bavaria placed a plaque on the town's old school house (his birthplace) in recognition of
Charles Fey
and his invention.
The same year,
Charles Fey
and Theodore Holtz, a co-worker, quit their jobs at California Electric Works, and formed a new company to compete with their former employee, manufacturing telephone, telegraph, and electrical equipment. The new business was located on the same block as Shultze's slot manufacturing company, and undoubtedly manufactured parts for Shultze's machines. In 1895, Fey moved to Berkeley, where he built his second slot machine in the basement of his new residence. This machine, called the 4-11-44, was based on Policy, a popular lottery game at the time. The machine had three concentric numbered dials, and was set on a long and narrow cabinet. 4-11-44, which was a popular sequence in Policy, was the top paying combination. This combination paid $5.00. The first 4-11-44 was placed in a salon, and became so popular that Fey promptly created a few more, and decided to devote his full time to designing and manufacturing slot machines. In 1896 Fey formed a factory on Market Street in San Francisco and left his share of the electrical equipment business to his partner, Hotlz. Hotlz in turn also entered the slot machine business soon after.
Gambling Newsletter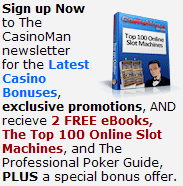 Casino of the Month
This month our online casino of choice is:
Online Vegas


BONUS:

100% up to $500 free