Roulette Mathematics
Do the odds change with every spin of the roulette wheel?
Is number 9 less likely to come up after four successive outcomes? Four successive outcomes of the same number, say; 9 9 9 9, is a rarity. Indeed, the sequential probability of four 9s coming up in a row is very high (1/38 x 1/38 x 1/38 x 1/38 = 1/2,085,136), but the absolute probability of number 9 to come up at each spin is always 1 in 38 (on a double zero Roulette wheel).
If a sequence of four of the same number is a rarity, a sequence of any four numbers is equally a rarity such as 32 12 5 26 or 21 8 35 13. This is not obvious simply because a sequence of 9 9 9 9 is easier to notice than, say; 32 12 5 26. If you have never seen an outcome of four 9s in a row, it is unlikely that you have seen a sequence of 32 12 5 26 or 21 8 35 13. They are just as rare to occur.
Therefore, five successive outcomes of the same number, like 9 9 9 9 9, will be as rare as 9 9 9 9 X, where X can be any number on the Roulette wheel, and although such a sequence is indeed more of a rarity it does not single out number 9 as the number less likely to come up.
The intrusion of absolute probability into sequential probability does not allow you to gain an advantage.

Example
You and your wife decide you want to have nine children. Pretend for the purpose of this example that the number of male births equals the number of female births and no genetic predisposition's exist. You want to have all boys. What are the odds of having nine boys and no girls? Astronomical. That's sequential probability.
Now your wife has had eight boys. She finds out that she's pregnant. What are the odds that it will be a boy? 50:50, right? This is absolute probability.
Gambling Newsletter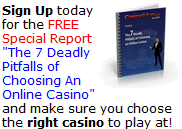 Casino of the Month
This month our online casino of choice is:
Bet365 Casino


BONUS:

claim a series of 20% bonuses on deposits/transfers of £50 or more, up to £200 each time