Fey's Antique Slot Machines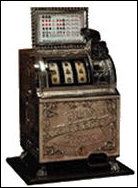 Mills 1906 Liberty Bell
The first mechanised slot machine was invented by
Charles Fey
. Essentially, it was a 3 reel machine with Diamonds, Spades and Hearts, with a symbol of a cracked Liberty Bell painted on each reel. The jackpot was hitting the 3 Bell symbols. Fey would not sell his Liberty Bell slots so the only way a competitor could obtain one was to steal one. This occurred in 1907 when the Mills Novelty Company of Chicago stole one from a San Francisco saloon. They produced a replica the next year using the same reel strips but calling it the Operator Bell. Two other manufacturers, Caille Brothers and Watling followed shortly and also began producing Liberty Bell based slots, identical to the Mills machine
A gum vendor was added to cash paying slots so that they might be classified as vending machines. It was from the fruit favoured gum that the fruit symbols evolved and the bell came from the original Liberty Bell machines.
A contemporary slot of the 3-reel machine was the beautiful, large floor machine. First appearing around 1897, their popularity extended into the late 1920's. A player would bet on one to six of the colours on the revolving wheel and win from 2 to 40 coins.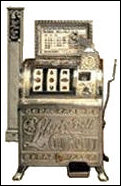 Mills 1910 Gum Vendor
It was during the 1930's that
slot machines
began to spread across USA, and in the late 40's, Bugsy Siegel added machines to his Flamingo Hilton hotel in Las Vegas. The original idea was that these new
slot machines
would entertain the wives and girlfriends of high rollers, however, revenue from these new
slot machines
soon began surpassing the revenue from table games. In the mid 1980's the popularity of
slot machines
and table games were on par with each other, but by the 90's slots had taken over and now account for over two-thirds of casino revenue in the US.
Gambling Newsletter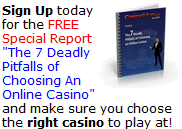 Casino of the Month
This month our online casino of choice is:
Aspinalls Online Casino


BONUS:

100% match bonus up to £200