History of Baccarat
The word baccarat is derived from the Italian word baccara, meaning zero, and refers to the zero value given to all of the face cards and tens. In Europe, the elegant game of baccarat is one of the most popular casino games. The game baccarat has long held the attention of gamblers and an early version was played with cards from a Tarot deck back in the Middle Ages.

The game may have originated in Italy around 1490, but by the early 1950's baccarat had become the game of choice for the French nobility. Eventually baccarat evolved into European baccarat and the French game chemin de fer. What is known as American baccarat actually originated in England and spread to South America.
The version of baccarat that is played today came from the Capri Casino in Havana, Cuba. When baccarat was introduced to Nevada in the late 1950's, casino's tried to instil the glamorous aura associated with the European game.
In most casinos, baccarat is played in a roped-off area, is closely monitored and sometimes even guarded. While the grandiose atmosphere of baccarat may attract the well-dressed high roller, baccarat is a simple game of chance that involves no degree of skill on the part of the player or dealer.
Players may sit in any of the 14 open seats at the table, as seating position does not affect the play in any manner. Each seat corresponds to a number on the layout, one through 15, excluding a spot numbered 13 to avoid bad luck.
Three dealers service each table. The dealer standing in the middle is known as the croupier or the caller. The croupier makes the calls on each hand as they are dealt, and directs the players on the procedure of the game. The other two dealers are responsible for handling the payoffs.
Gambling Newsletter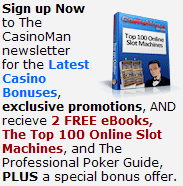 Casino of the Month
This month our online casino of choice is:
Online Vegas


BONUS:

100% up to $500 free