Online Casino Bonuses - Wager Ratios
One of the main complaints I hear all the time is from players who try to take advantage of free bonuses, but the online casino refuses to pay it.
One key factor which affects this is the Wagering Requirements which online casinos place on all bonus money. This is essentially the amount of wagering that has to occur before the bonus money is awarded. In most online casinos, this is a multiple of the deposit+bonus.
You are probably thinking what a scam, wagering requirements to get a bonus. Let's face it, online casinos, just like offline casinos, are businesses, and as a business, must generate revenue! These bonuses are offered as an incentive for you to be entertained, and not simply a free cash giveaway. If it was a free giveaway, people would take advantage and the online casino would suffer massive losses, and go out of business. Which would mean no more entertainment for you!
To help, we've made distinguishing bonus offers easier for our visitors. This is the definitive Bonus Wagering Ratio (BWR) chart. In our other bonus info pages, the BWR number will appear in brackets after the bonus figure. eg $100 (10).
Our BWR is calculated on the maximum 1st deposit bonus offer at each online casino.
It's simple, the lower the ratio, the less you will need to wager before you are able to cash in on your bonus. Here is the simple equation we use to calculate the bonus ratio:

Wager multiplier is the number of times the total Bonus+Deposit must be wagered. This is normally specified in the Terms & Conditions of the bonus offers.
Here are the top 25 online casinos listed by BWR, remember the lower the number the better.

We have tried to be as thorough as possible, however we still urge you to read the Terms and Conditions of all bonus offers. Online casinos often place restrictions on which games count towards the wagering requirements. Most online casinos do not count craps or roulette wagers, and some restrict blackjack too. The best thing if in doubt, is stick to online slots games. As far as we can tell, most online casinos count all slots games towards the wager requirements.
Win $100 Cash Prize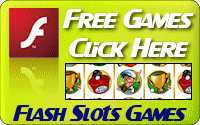 Gambling Newsletter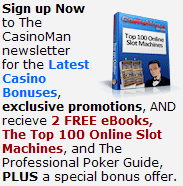 About CasinoMan.Net
CasinoMan.Net was established in 2001 providing online gambling advice and now the largest online slots guide found on the Internet. The slots guide now has 1170 independently written reviews.
Our Special Features:
YouTube video previews on most slot reviews
Advanced features such as comment posting and voting.
Quick search and Internet Explorer toolbar facilities.
Monthly Guess the Slot competition to win $100 cash.