Category: associations
The Association Of British Bookmakers help maintain integrity in UK gambling



02 December 2009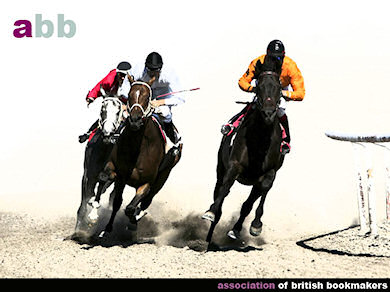 The Association of British Bookmakers is the UK's leading trade association in representing off-course bookmakers. The group's objective is to help create and sustain the ideal conditions in which any socially responsible and law-abiding betting shop operator can compete and prosper.
The UK is riddled with bookmakers and other operators of off-course betting shops. In order to develop and implement strategies, many members must frequently come together, gather input, and discuss the best moves for the industry as a whole, while still remaining within the framework of the laws in place.
The ABB has many members and is a relatively large organization. Their membership covers the entire spectrum of Great Britain's bookmakers, including national chains, sole traders, and other independent members of any size. All together, the ABB has over 200 independent members, and in total, they operate more than 5,000 betting shops around the UK.
The Independent Betting Adjudication Service resolves gambling disputes in UK



12 November 2009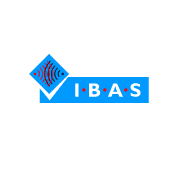 IBAS stands for the Independent Betting Adjudication Service. The service lends its credible and reputable practice to act as an impartial adjudicator on various disputes that often arise between online gaming operators and their respective customers. In other words, IBAS is like a third-party support team, able to come in, privately view the matter, and implement a course of action to either party involved.
In today's wild world of online gaming, with thousands of sites and millions of customers, IBAS' services are greatly appreciated. They can save time, money, and they always seem to reach a satisfactory conclusion when presented with the proper evidence.
Gambling, by its very nature involving money, involves emotions. Sometimes people get carried away, and when multiplied by millions, the odds of having a conflict in the online gaming world greatly increase. Every minute of every day, some player is having a dispute with some gambling website.
The European Gaming and Betting Association - what do they do for gamblers?



28 October 2009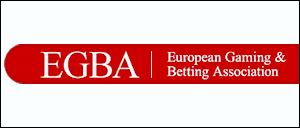 Nobody is as serious about business as the people actually running businesses. While the world may encounter the occasional crook that gives honest and legitimate entities a bad name, they're still too few and far between to matter in the long run.
In the business of online gambling, seven of the top online gaming operators have set up a union to show their commitment to promoting fair competition and raising awareness within the gambling industry. The European Gaming and Betting Association (EGBA) is comprised of members from the bwin Group, Unibet, PartyGaming, Expekt, bet-at-home, digibet, and Interwetten.
Recently, the EGBA has been fighting anti-online gambling legislation throughout Europe. Although it is the rights of the individual countries to decide the legislation based on what is best for society, the EGBA feels that, using free market principles of which all citizens are entitled, responsible adults should be able to make up their own minds about gaming. Moreover, as licensed members, regulated by the EU, companies should retain the right to make their own decisions as well.
Overview of The Remote Gambling Association (RGA)



16 September 2009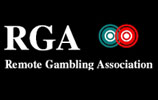 Currently, there are thousands of gaming sites online run by dozens of reputable corporations and other entities acting independently. With so many businesses operating in their respective field, they need a union of sorts to act in the industry's best interest.
The Remote Gambling Association (RGA) represents many of the world's largest stock-market listed and licensed remote gambling companies. Their goal is provide the entire industry with one, strong voice on every important issue, including regulatory measures, legislation in various territories, and other key decisions that will affect the industry.
The Remote Gambling Association doesn't accept membership from just anyone. In order to qualify and be considered for a full membership, all applicants must be officially licensed for gambling activities and operational within the EEA (European Economic Area), the Isle of Man, or the Channel Islands.
Who are the Interactive Gaming Council and what do they do?



01 September 2009
With so many gaming sites popping up on the web, it's hard to keep them in line with one another. Various entities work hard to ensure that no rogue sites are implementing policies that give the industry a bad name. One of the more reputable groups out there, the Interactive Gaming Council (IGC), is an association that serves as a collective voice for the interactive gaming industry.
With the always changing atmosphere of online gaming, the IGC works hard to ensure that players are treated fairly in an honest environment, and that people employ responsible gaming. The IGC takes a two-pronged approach: improving the sites offering the games, and increasing awareness among those playing the games.
All members of the IGC are wholly dedicated to achieving the goals-even if lofty-they outline, and like any reputable community, they welcome new members and comments and support from individuals with constructive criticism and ideas on how to improve the Council's effectiveness and leadership capabilities.
GamCare provides support, information and advice to anyone suffering through a gambling problem



15 August 2009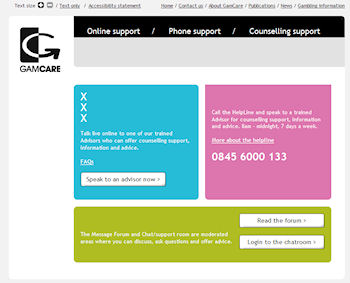 Gambling has always been a problem for some people. Like many things in life, people often find themselves having addiction troubles with games of chance. There's really no person who couldn't conceivably fall prey to addiction, and in today's world, gambling games are everywhere.
The internet has turned people on to an encompassing world of online games. In order to help keep gamers responsible, some companies provide their services to raise awareness in the field. GamCare, a reputable London-based authority, acts as a charity for online gambling sites, providing a host of information and remedies for those experiencing problems with addiction.
GamCare is the leading national authority in their respective field. A registered charity, GamCare offers advice and works to implement preventative measures so that no gambler finds him or herself addicted. The charity constantly addresses the social impact of gambling, and while they're far from anti-gambling, they do persist with the philosophy that online gambling is something that should be done in moderation and with full self control.
Latest Blogs
Top 10 Online Casinos
Blog Tags
Casino of the Month
This month our online casino of choice is:
Aspinalls Online Casino

BONUS:
15% extra up to £3000