Tag: steve wynn
Le Reve at the Wynn Las Vegas



12 November 2008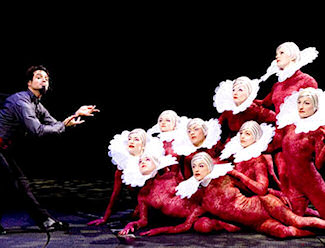 Meaning "The Dream" in French, Le Reve was the first-ever production show to open in the Wynn Las Vegas casino resort. This ultra-lavish show is held in a one-million-gallon capacity theater and hosts an array of diving and other spectacular displays of acrobatics and special effects.
The show was created by internationally acclaimed director Franco Dragone. The aquatic in-the-round dome theater makes sure that no audience member is more than 40-feet from the stage during the show, enabling every participant to witness the close-up action. There are probably better shows playing in Vegas, but Le Reve is definitely worth seeing.
First off, the domed theater just looks spectacular. Le Reve strikes you immediately as one-of-a-kind, but it's also blended with a little Cirque de Soleil. So it only makes sense that any Cirque lovers would absolutely adore this show. You will also be taken aback at just how intimate the setting is.
The History behind the Bellagio Hotel and Casino



25 June 2008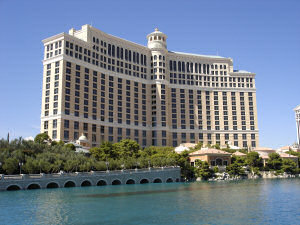 The Bellagio is an AAA Five-Diamond rated luxury hotel and casino in Las Vegas, located on The Strip. MGM Mirage holds ownership of this luxurious hotel and casino, and it was built on the site of the demolished Dunes hotel and casino.
Inspired by the Lake Como resort of Bellagio in Italy, Vegas' Bellagio is famed for its elegance. One of the most notable features of the Bellagio is an 8-acre artificial lake between the hotel and the Strip, which holds the famous Fountains of Bellagio. The Bellagio has been one of Vegas' most famous resorts since its inception. It employs approximately 10,000 people, and is visited by millions each year.
The Bellagio was conceived by Steve Wynn, an American casino resort developer, and built by his company, Mirage Resorts, Inc. Wynn is often considered as the man who changed Vegas. In 1989, his first major Strip casino, The Mirage, opened, setting a new standard in Vegas, making immediate history.
With his second project, the 1993 Treasure Island Hotel and Casino, Wynn proved once again that his vision for Vegas was different. The $450 million dollar resort was another instant smash with the public.
Tags:
las vegas
,
bellagio
,
steve wynn
,
the mirage
,
lake como
,
treasure island
,
dunes hotel
,
frank sinatra
,
minsky
,
masoa nangaku
,
Posted in:
Gambling History
,
Land Based Casinos
,
Las Vegas
,
Real Estate
, |
Comments (0)
A mini-bio on Steve Wynn



30 May 2008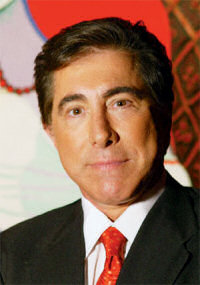 Stephen Alan Wynn was born on January 27th, 1942 in New Haven, Connecticut, and is best known for being an American casino developer. He was thought to be responsible for the efforts of reestablishing Las Vegas in the 90s, spearheading the resurgence and expansion of the Vegas strip.
His companies refurbished and built some of the most widely recognized resorts in Las Vegas to date, such as the Golden Nugget, The Mirage, Treasure Island, Bellagio, and Wynn. Wynn currently lives with his wife in a suite at Wynn Las Vegas, awaiting completion of their Highlands Golf Club home. He has two daughters, Kevyn and Gillian. Wynn suffers from retinitis pigmentosa, which affects his peripheral vision.
Wynn's father Michael Weinberg ran a host of bingo parlors in the United States. In the late 40s, he changed his name to "Wynn", a marketing strategy and an attempt to counter anti-Jewish bias.
Tags:
las vegas
,
bellagio
,
real estate
,
steve wynn
,
the mirage
,
golden nugget
,
Posted in:
Land Based Casinos
,
Las Vegas
,
Real Estate
,
Biographies
, |
Comments (1)
Latest Blogs
Blog Tags
Casino of the Month
This month our online casino of choice is:
Blackjack Ballroom

BONUS:
Rewards Buddies is a revolutionary 3 tiered referral system that can make you thousands per year.