Category: classic cars
Classic Cars 1988 Aston Martin V8 Volante



01 June 2011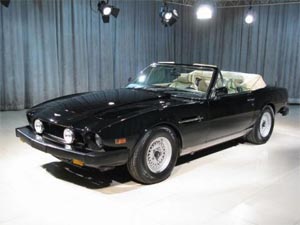 Based upon the six-cylinder DBS, the Aston Martin V8 sent the Newport Pagnell firm in a new direction. These cars were big and brutish with plenty of muscle. They mixed together the speed and acceleration of a thoroughbred supercar with the refinement of luxury grand tourer.
The DBS was developed during the mid to late sixties and was put into production in 1968 with the six-cylinder engine from the DB6 in place. This was because the specially developed V8, designed by automotive genius Tadek Marek, was still undergoing tests to ensure complete reliability. The engine eventually appeared in 1970 and gave the DBS the speed to match its style. Over time this style evolved, most noticeably when the front changed from having quad-lights, to just two.
However by the mid-1980's, it was clear that this range of cars was quickly becoming outdated. The final Series 5 evolution of the range was launched at the 1986 New York International Auto Show and featured a compact Weber/Magnetti Marelli electronic fuel injection system.
Classic Cars 1968 Maserati Mistral



28 May 2011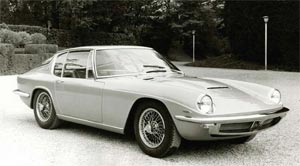 Cars named after winds aren't always overly exciting, think of the Golf (named after the Gulf winds in the Middle East) and the Jetta (named after the Jet stream). However in the sixties, Maserati launched a car named after a gust of wind from the south of France, the Mistral.
Turin's Pietro Frua gave the car its sleek looks and upon its launch in 1963 it was a sensation. The bodywork featured a mix of aluminium and steel panels; this gave the car a light overall weight whilst still providing good torsional stiffness. Under the skin a semi-monocoque chassis, featuring box sections of various lengths and thicknesses, was employed instead of Maserati's traditional elliptic tubular frames.
The Mistral was strictly a two-seater sports car. The driving position was excellent; giving the driver good views and a well finished leather interior ensured both occupants were comfortable. The long sloping bonnet was in keeping with the styling trends of the early sixties (think Jaguar E-Type) and the large glass tailgate gave access to plenty of baggage space and preceded the looks of the Jensen Interceptor and Porsche 924/944
Classic Cars 1955 Lancia Aurelia



22 May 2011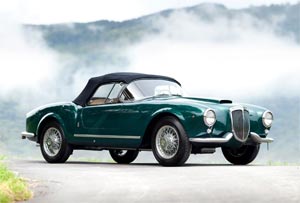 Originally launch at the 1950 Turin Motorshow, Lancia's Aurelia was the first significant production model to be launched after Word War Two. It featured the first V6 engine to be used in a mass production car, was one of the first cars to use radial tyres and in an effort to keep the weight of the car as low as possible; aluminium was used in the doors, bonnet and bootlid.
Initial production centred on the four door saloon, with a two door GT Coupe following a year later. All the mechanicals came from the pen of renowned racing car designer Vittoria Jano. Because of this, features such as overhead camshafts and a gearbox incorporated in the rear axel made their production car introduction. These features also gave Aurelia a sporting pedigree from the outset. This was later to be proved a reality when an Aurellia finished second only to a Ferrari America in the 1951 Mille Miglia and took a class win at Le Mans in the same year. The 1952 Targa Florio saw a modified Lancia Aurelia take overall victory. A good sporting record for a humble family saloon.
Classic Cars 1975 Lamborghini Countach



13 February 2011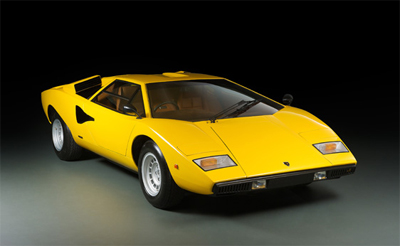 When it comes to classic cars, 1975 Lamborghini Countach is one of the most iconic cars of all time and it is clear to see why. With its angular, wedged shape and sharp lines it looked like a car from the future rather than one that was designed back in 1975. Production of this car lasted until 1990 which meant that for this car was produced for a staggering 25 years.
In addition to its spectacular design another thing that set the 1975 Lamborghini Countach apart from many of its counterparts was its speed. With top speeds of almost 200 miles per hour it was hailed as one of the fastest cars of its time. Add to this the fact that even at the top speed the ride is comfortable and you can see why the 1975 Lamborghini Countach was in production for so many years.
This car also incorporates the unique rear view 'Periscope' mirror which is set into a depression that is in the roof which can clearly be seen from the exterior of the car. Mirrors like this are only seen on a handful of car designs which helps to make the 1975 Countach even more popular. In fact since 1975 there have only been around 10 cars that have used this kind of mirror placement in their design.
Classic Cars 1968 Ferrari 330gtc



06 February 2011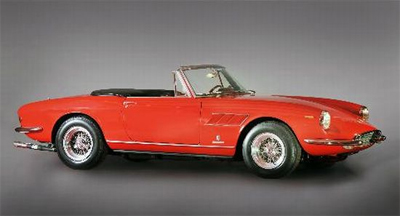 At the 1966 Geneva Motor Show the Ferrari 330 GTC was first unveiled to an eager audience who were keen to see the new car that Ferrari had produced. The car was intended to fit between production of the Ferrari 275 GTB and the Ferrari 330 GT 2+2 models which had been made in the previous and consecutive years. The 330 GTC mixed fantastic handling with a 4 litre engine, the classic looks of the 275 and a chassis that was suspended.
One of the reasons that this classic car handled so well was down to its rear suspension, which was initially introduced on the Ferrari 275 GTB. The gearbox was now in the suspension at the rear of the car via a transaxle which gave the 330 GTC even more power than previous models. This meant that individuals who were looking for a powerful and responsive car found it in the Ferrari 330 GTC.
The top speed of the classic 1968 Ferrari GTC was 150 miles per hour and it took just 6.9 seconds for the car to go from 0 -60 miles per hour. As shown this car was superfast and it was a definite pleaser for car fans who wanted to have plenty of power behind them while they were in the driver's seat. In fact to show just how fast this car accelerated it took just 16.7 seconds for the car to go from 0 -100 miles per hour.
Classic Cars 1961 Studebaker Silver Hawk



22 January 2011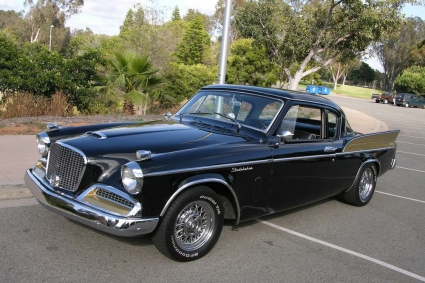 Studebaker cars were some of the most popular types of car in the US in the 1950s thanks to their performance and looks. The 1961 Studebaker Silver Hawk was a car that had evolved from the Starlite design of 1953 which was a coupe that was a very popular car in its own right. By 1962 production of the Silver Hawk had ceased, giving way to the Hawk Gran Turismo which was in production for just over 12 months.
As you would think from classic cars, 1961 Studebaker Silver Hawk had features that made it an iconic car of its time and one that was instantly recognisable. One of these features on the Silver Hawk was a tail fin that made it look even longer and sleeker than previous models. In fact when many people think of cars with a 1950s or 1960s design this is the kind of car that they think of.
Unusually for many classic cars, 1961 Studebaker Silver Hawk was very reasonably priced which was what made it even more popular with many people. Studebaker had realised that the time was right to produce cheaper car than what was on the market at the time. This was a decision that certainly paid off as the car was very successful.
The 250 GT Berlinetta SWB - A Review



30 December 2010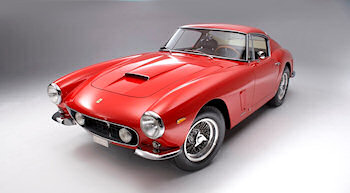 A classic in its own right, the 1959 Ferrari 250 GT SWB is widely renowned for being one of the best sports cars of its time. With its sleek design, exclusivity factor and great historical background, it's no wonder that Motor Trend Classic magazine awarded it fifth place in their list of top ten "Greatest Ferraris of all Time" feature. But what do we really know about this automobile?
It was first unveiled in October of 1959 at the famous Paris Motor Show. Disk brakes and a short wheelbase (SWB) were a first in the GT series, and the combination of low weight, high power, and well-sorted suspension made for quite an impressive package.
The top speed was around 152 mph, while 0-60 mph could be done in 6.2 seconds. Both figures were seen as the best of that time, and had caused quite a bit of excitement amongst the racing community.The car was also highly reliable, easy to drive and considered to be incredibly good-looking. It was a natural on the race-track as well as on the road. Since then, road cars and race cars have differentiated into two separate paths.
Classic Cars 1955 Mercedes 300sl



05 October 2010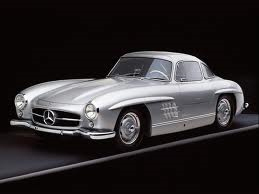 In today's world of high-priced luxury automobiles, Mercedes is one of the most well-known and sought after brands around. This isn't anything new for Mercedes, though; this auto brand has been developing and releasing luxury automobiles for decades. The 1955 Mercedes-Benz 300SL Gull-wing is one of the manufacturer's best examples and one of their most loved models.
Long before this unique two-seater coupe was a collector's item worth a small fortune, the Benz 300SL was introduced in 1954 as more of a racecar-like automobile for high-speed motor enthusiasts and those already familiar with the brand of luxury Mercedes released. It wasn't an automobile put out there for mass appeal, to say the least.
At the time of its release, this unique gull-wing (think similar to today's Lamborghini doors) was the fastest production car on the road. It was basically a fuel-injected replica of the Mercedes-Benz 300SL competition sports car released in 1952.
Latest Blogs
Top 10 Online Casinos
Blog Tags
Casino of the Month
This month our online casino of choice is:
Sloto'Cash Casino

BONUS:
25% up to $270 FREE Slots Bonus