Fruit Machines

Highest Scoring Slot Machines
"Fruit machine" is the British name for the American-invented slot machine. They started out in 1887 being called one-armed bandits, due to the mechanism a player pulled to activate the reels. The makeup of a traditional fruit machine hasn't changed much in over a century. Live machines use a level or buttons to bet and to activate the reel system.
Online fruit machines operate in the same basic way. The biggest difference between fruit machines and slot machines is that fruit machines tend to have an additional element of skill involved with features such as nudge buttons, interactive bonus games and various bonus collection tactics.
If you're playing on a live fruit machine and insert a coin, there's a device inside known a currency detector that validates the coin or other money inserted before allowing you to activate the reels. With an online fruit machine, the money is validated long before you place your bet. You receive credits from the gaming venue once you deposit real cash. After that, your credits are instantly useable for any game.
Some live fruit machines have started to advance. You can play a variety of reels that offer up unique ways to win if you form patterns. Online machines are also advanced. The only difference here is that online machines are a bit more advanced than the live versions. There are customizable and video fruit machines.
The biggest difference most find in the live and online versions are the ease and accessibility of the Internet's many slot machines. You can play at any time you want, day or night, and operating the machine is as easy as clicking your mouse. It might not have the ambiance, but online fruit machines are still extremely popular.
Win $100 Cash Prize
Gambling Newsletter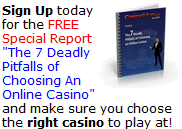 Latest Slot Tags
Live Slots Tournaments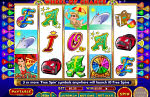 Win $30,000 playing 5 Reel Wheel of Chance in the $30,000 Guaranteed Weekend Madness Tournament.