Asia Entertainment & Resources Ltd. to Announce First Quarter 2011 Results on Wednesday, May 11, 2011

AERL will conduct a conference call to discuss the financial results on Thursday, May 12 at 10:30AM EDT/10:30PM Macau. To participate, please dial 1-877-852-6573 (U.S. callers) or 1-719-325-4772 (International callers) at least 10 minutes prior to the scheduled start of the call. Interested parties may also access the live call on the Internet at www.aerlf.com (select Events and Presentations).
Following its completion, a replay of the call can be accessed on the Internet at the above link or for one week by calling either 877-870-5176 (U.S. callers) or 1-858-384-5517 (International callers) and providing conference ID 6251230.
About Asia Entertainment & Resources Ltd.
AERL, formerly known as CS China Acquisition Corp., acquired Asia Gaming & Resort Limited ("AGRL") on February 2, 2010. AERL is an investment holding company which operates through its subsidiaries and related promoter companies as a VIP room gaming promoter, and is entitled to receive all of the profits of the VIP gaming promoters from VIP gaming rooms. AERL's VIP room gaming promoters currently participate in the promotion of three major luxury VIP gaming facilities in Macau, China, the largest gaming market in the world. One VIP gaming room is located at the top-tier MGM Grand Macau Casino in downtown Macau that is operated by the MGM Grand Paradise S.A. Another Macau VIP gaming facility is located in the luxury 5-star hotel, the Star World Hotel & Casino in downtown Macau, which is operated by Galaxy Casino, S.A. The third VIP gaming room is located at the Venetian Macao-Resort-Hotel in Cotai.

Source: Asia Entertainment & Resources Ltd.
Top Online Casino Choice
Aladdins Gold Casino

ALAKAZAM | Deposit just $250 to get a incredible $750 slots bonus.
Rushmore Casino

Slots Special Bonus | get 400% bonus up to $2000
Bodog Casino

Refer a Friend | earm up to $100
No comments have been submitted yet for this article.
Post a Comment
Latest News
Gambling Newsletter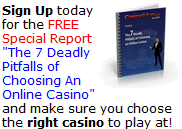 Latest Forum Posts
Law Articles