Tag: king of the castle
Blast from the Past at the Lyndhurst Castle



25 March 2011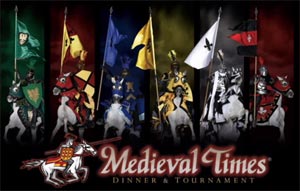 Have you ever wonder what it feels like to be in the 11th century? Think knights in shining armour on horseback and the whole royal family sitting on the long table to feast. Well, you can visit one located just outside New York City; the Lyndhurst Medieval Castle in New Jersey, built to orchestrate the Medieval Times Dinner and Tournament.
Visitors will be ushered into the castle with the music of Trumpeters and Heralders. It is like a step into the past because once you are inside the castle, the workers there are all in medieval costumes and the best part of the replication would be the ancient speech spoken by them. Visitors have to make a selection for the Knight that they want to support during the tournament and the hostess will then arrange the visitors to the relevant check-in areas.
Upon checking in, crowns made from cardboard will be given to the visitors and the colours will match the Knights that they support. The King of the Castle, King Philippe and his daughter, Princess Leonore come and join the table for group pictures. The pictures are then sold to the tables as a memento of the evening.
Tags:
knights
,
new york city
,
lyndhurst castle
,
castle
,
lyndhurst
,
king philippe
,
king of the castle
,
medieval
,
Posted in:
History
,
Entertainment
, |
Comments (0)
Share it
Latest Blogs

Blog Tags
Casino of the Month