Tag: mob experience
The Las Vegas Mob Experience at the Tropicana



04 May 2011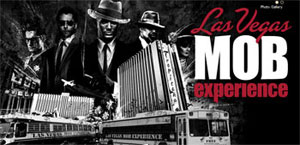 For a superb lesson in the history of the Mob then the Las Vegas Mob Experience at the Tropicana is one of the best experiences that a visitor will ever have the chance of getting involved in. This interactive experience takes the visitor from the days of Prohibition to Las Vegas and demonstrates the dramatic downfall of the Mafia in a way that will leave them speechless.
Using the most up to date technology that makes each visitors experience unique you can choose which celebrity guide will escort you through the exhibition so whether you would like Mickey Rourke or Tony Sirico as a guide it is up to you to decide making the whole process really personal.
Your guide will take you through a maze of alley ways that lead to a door that leads you into a Speakeasy and then a warehouse that has a hidden exit. You get to play a role through the entire tour and can choose to answer questions and make decisions on whether to join a gang or 'rat' on the wise guys who approach you by pointing them out to a cop down the street.
Share it
Latest Blogs

Blog Tags
Casino of the Month