Tag: tropicana
Folies Bergere at the Tropicana Review



13 October 2008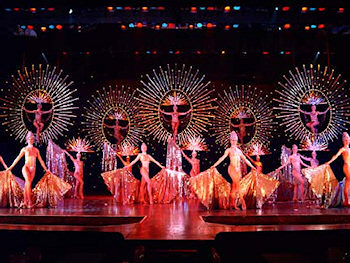 Fans of Las Vegas, Nevada can agree - there's a little something for everyone. No matter what you're into, you can find something to do in Vegas. It's truly the land of a million options, although most only arrive for one or two. One Vegas attraction that some are unaware of is the Folies Bergere show at the Tropicana.
Critics of the show agree that Folies Bergere is the glamorous spark that takes Las Vegas back to a long-removed golden era. This timeless musical show personifies "sexy" Vegas, and provides classic entertainment that proves to be a much appreciated break from magic and mayhem. The show takes its name from The Folies Bergere, a Parisian music hall which was extremely popular throughout the late 1800s to around 1920. It's still in business today.
For lovers of all things music, dance and entertainment, Folies Bergere has a seat reserved just for you. It contains all the elements that a great Las Vegas show needs to succeed: singing and dancing, gorgeous scenery, gut-busting comedy, and the crème de la crème of Las Vegas - the showgirls.
Tags:
las vegas
,
folies bergere
,
tropicana
,
parisian
,
showgirls
,
can-can
,
latin mambo
,
Posted in:
Land Based Casinos
,
Casino Entertainment
,
Las Vegas
, |
Comments (1)
Latest Blogs
Top 10 Online Casinos
Blog Tags
Casino of the Month
This month our online casino of choice is:
Pantasia Casino

BONUS:
10% maximum $200