Tag: arnold palmer
Maybe Jack Nicklaus is the best all time golfer?



08 December 2008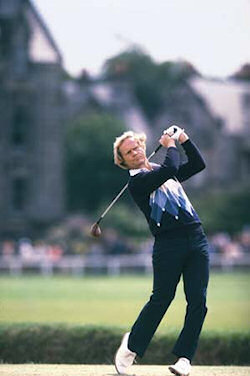 Born January 21, 1940, in Columbus, Ohio, Jack Nicklaus is a former professional golfer. Better known as "The Golden Bear," Nicklaus is considered by many to be the greatest golfer to ever life. This is a title heavily disputed, as modern golf fans and enthusiasts single out Tiger Woods as the greatest to ever play.
As it stands now, Nicklaus has won more events and more majors than any other golfer in the world. So if anyone wishes to dispute his status as the best ever, they need to start topping his gargantuan numbers in order to disprove it.
Nicklaus picked up the golf clubs when he was just ten-years-old, and immediately people started to notice that he was a prodigy in the sport. The first he tournament he ever entered, the Scioto Country Club Juvenile Championship, he won easily. Shortly thereafter, Nicklaus began lessons with a local professional golfer named Jack Grout.
Tags:
tiger woods
,
pga tour
,
jack nicklaus
,
arnold palmer
,
golden bear
,
scioto country club juvenile championship
,
jack grout
,
arnie's army
,
Posted in:
Sports Events
,
Biographies
, |
Comments (0)
What gave the roar to Tiger Woods



01 September 2008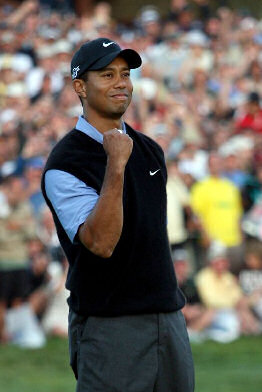 Tiger Woods was born on December 30, 1975, in Cypress, California. Earl Woods, Tiger's father, began teaching him the game when he was just 1-year-old. At only 2 years of age, Tiger's skills were so evident that he was featured on the Mike Douglas show in 1978. Woods appeared alongside Bob Hope in a putting contest. At only 3-years-old, he shot an impressive 48 over 9 holes at a hometown golf course and eventually appeared on the TV show "That's Incredible" and was featured in Golf Digest Magazine when he was 5.
After winning 6 junior championships between the age of 8 and 15, Woods went on to become the youngest U.S. Junior Athlete Champion in the country's history. He repeated the following year, making him the only player to ever receive the honor twice. The following year, he won it for an unprecedented third time.
At age 16, Woods competed in the Nissan Los Angeles Open, his first PGA Tour event. And at 18, Tiger won the U.S. Amateur Championship, becoming the youngest player to accomplish this feat. He went on to win the Amateur Championship for 2 more years, winning 3 consecutive.
Tags:
tiger woods
,
golf
,
pga tour
,
mike douglas
,
the masters
,
jack nicklaus
,
arnold palmer
,
vijay singh
,
Posted in:
Sports Events
,
Biographies
, |
Comments (0)
Latest Blogs
Blog Tags
Casino of the Month
This month our online casino of choice is:
Blackjack Ballroom

BONUS:
Rewards Buddies is a revolutionary 3 tiered referral system that can make you thousands per year.