Review of Arroyo Golf Club at Red Rock


29 March 2011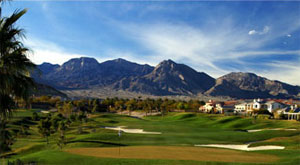 The Arroyo
Golf
Club is often referred to as the premier private golf club in Las Vegas. Designed by Arnold Palmer in 2003 this much liked course is open to the public who have raved about it ever since it was first opened. The Red Rock Country Club boasts 738 acres of lush land and the course is kept perfectly manicured to ensure that
players
get the best golfing that can be found in the area. It offers all the players who come to Red Rock the opportunity of living a day in style in a private club atmosphere that is a real treat.
The 18 hole course is challenging but not too intimidating so it is fantastic for the casual golfer who just wants a day's golfing in beautiful surroundings. The only complaints are that often the tee times are a little too close together which means that there can be a little waiting at every hole but on the whole most who come to Red Rock leave with a memory of a great day's golf.
The incredible setting with the Red Rock
Mountains
in the backdrop and the friendly staff at the Arroyo Golf Club will make you feel welcome from the moment that you arrive at the fabulous club house. You will be treated as if you have just entered an exclusive private club and the cost of days golfing is well in the reach of most people making Red Rock a firm favorite when it comes to golfing destinations.
During your round of golf you are bound to come across wildlife on this incredible course which includes meeting up with the ever present rabbits and squirrels although on the odd occasion a coyote may decide to join you when you tee off. Arroyo Golf Club certainly gives you an entertaining day out on a beautifully situated golf course that will simply take your breath away.
At the club house you will be offered free range balls and a ride to the driving range and everything you will ever need for a great days golfing can be found as a matter of course, including sunscreen if you need it. The course has a GPS system installed so if you need help with any distances that you find confusing this is a great advantage for your game.
The club house has a fine selection of foods on the menu with breakfast and lunch offered in a relaxing setting. There is also a full bar available so that you can sit and relax in sheer comfort after your days golfing at the Arroya Golf Club.
The changing rooms are large which really does give you the impression of being in an exclusive private club so you have all the space you need to prepare for your game and at the end of it there is room for you to finish up in comfort. Everyone who has ever visited this golf course has come away with the memory of having a really good days golf on a course that was designed by one of the best players in the business.
Tags:
golf
,
arnold palmer
,
golf club
,
arroyo
,
red rock
,
country club
,
arroyo golf club
,
Posted In:
Las Vegas
,
Golf
,
Want More Blog Updates and Email Newsletter With Best Online Gaming Tips?
Fill out the form on the right to join our CasinoMan newsletter and we'll drop you an email every 2 weeks with the latest blog posts.

We'll also periodically send you other useful gambling articles we publish which will keep you completely informed of the latest offers. This newsletter goes out 1 time per month.

Naturally, we respect your privacy.
Video
Please be the first to leave a comment below.
Latest Blogs
Top 10 Online Casinos
Blog Tags
Casino of the Month
This month our online casino of choice is:
Jackpot Party

BONUS:
100% match bonus up to £150 free