Tag: phantom
A review of the new Phantom show in the Venetian Las Vegas



15 May 2011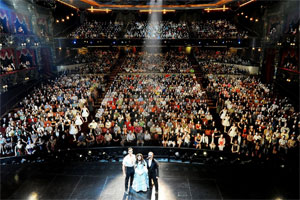 In keeping with any project or show that hits Las Vegas, the budget for the theatre that houses it's version of Andrew Lloyd Webbers 'Phantom of the Opera' was as grand as the sets themselves. A massive $40 million went into the custom build theatre at the Venetian. Audiences have been mesmerized by this shorter version of Lloyd Webbers Broadway hit which is now called 'Phantom - The Las Vegas Spectacular' and it is not only the show itself that has them raving about the show but the 1,800 seat theatre with its elaborate seta and special effects too.
The theatre has been built to look very like the Opera Garnier in Paris with red seats and curtains, gold statues and carvings with a hand painted ceiling and eighty foot dome and typical private boxes along the sides of the theatre. There are 70 mannequins placed in each of this boxes are constant spectators, they are dressed in authentic period costume and each of these characters is an individual person as not one of looks alike.
In the centre of the theatre is a chandelier which weighs 2,100 pounds and was designed at a cost of $4.5 million. This centre piece of the hall plays a major part in the show. There are nearly 30,000 crystals that were hand strung to this amazing creation. At the start of the show this chandelier appears to be in four pieces that dramatically reassemble themselves into a single light again.
Latest Blogs
Top 10 Online Casinos
Blog Tags
Casino of the Month
This month our online casino of choice is:
Jackpot Party

BONUS:
Earn double points every monday